Ernie Platt 1940—2015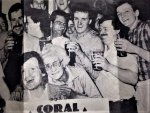 Sun, 24 Jan 2021
Ernie Platt 1940—2015
Ernie was born in 1940. No football, no rugby, no golf, and the Scottish Grand National won by 'no race run', but at least everybody got their money back. It was all about tightening belts and facing up to the Luftwaffe overhead and the Nazi war machine ripping through Europe. Little did the Germans know they'd come up against my da. Thing were cheaper then, but you couldn't buy them because of rationing, a pint was 9d,  20 Players 1s 5d and a Men's suit, if you could get the material, 10s 6d. Nobody owned cars, unless they were Nazis, but a Hillman Minor cost around £175, British made, but there was no petrol for the frivolities of road travel. John Logie Baird who saw out the war, before he died invented the telly, but must have felt a failure. Folk, like Ernie's mum, one of the Doherty's, just wanted a better reception on their radio.
Ernie mirrored that at the end of his life. He was living in Paisley, and when asked by Biggins, why he didn't have the internet, claimed 'my flat was too wee'.  
Ernie was the same age as Dennis Law, the 'LawMan', who starred for Manchester United and Torino and Scotland, and setting all kinds of goal-scoring and transfer-fee records. Ernie used to saunter down from Duntocher, where he stayed with his brother Andy, with a set of arrows to play darts in the Mountblow Bar on a Friday night in the 1970s, when Jocky Wilson was World Champion, and there was dart's mania even the English couldn't beat. Ernie wasn't the Denis Law of pub darts. He never made it beyond the first round, unless somebody fell over drunk and he got a bye into the next round. But he'd hang about with the few older guys in the pub. His full name was Ernest John Ale and he was born primed for drinking pints and studying form on the racing.  
Ernie was a wee bit smaller than Denis Law, but with the physique of a storeman that wears tan coloured jackets and doesn't life any weights heavier than a HB pencil. But he'd the same swept back, gingery mane of hair and bony face with a nose that dropped, sharply, to an extended chin that hung like a cliff over a checked shirt. Nothing fancy for Ernie, he kept his head down, and took a slagging, because of his st-u-tter. Ernie stuttered badly, but the drink helped his conversation to flow, or it just seemed like that because nobody was out to drink themselves sober, although some claimed they did, while perched on your shoulder like a parrot.  
Boozer and gambler combined like Clydebank's finest Jim McLaren, Citizen of the Year, but not that year in the Horse and Barge, or Tam Brady who ended up Ernie's unofficial minder and interpreter. He could sleep standing and taking naps between sip of his pint. His eyelids worked independently of his head, like drawbridges fell lower and lower to droop below the eyes waterline, taking his head down with it.
Tam Brady used to shout you across. 'You want a pint?' – with the added rider, don't bother buying it back, because Ernie's here. And he'd fling an arm over the wee man's shoulder, sometimes to hold himself up.
Terry Ross and the Whitecrook team got a hold of Ernie a few times and marched him to the cashlines in Dalmuir to take out £200 and £200, or whatever cash they could take.
Ernie's luck turned like sour milk. In 1989, for example, he'd stuck £100 on  Mark Calcavecchia to win The Open Championship at 25/1. That was a good win. Calcavecchia got into the playoff with Greg Norman and Wayne Grady. Ernie's bet was sill rolling. Then Mark Calcavecchia swung way over to the right of a steep slope on a par 3. Ernie tossed away his slip and walked away. Mark Calcavecchia turned it around, pulled off the equivalent of a hole-in-one, with his hooked shot. It won him The Open, and lost Ernie a wad of notes.
I started gambling, early, during the summer holiday. Mum and my Auntie Phyllis and our combined warring families when to Balloch. We took towels and swimming costumes and Calamine lotion and sandwiches and orange juice, and bags big enough to burgle Watergate. But there were no amusement arcades, only the odd ice-cream van making super-profit on the grass embankment and a pigeon with a death wish, and paddling in clean, cold water.
But when we went on a drizzly daytrip to Rothesay, or even Helensburgh, we weren't innocent day-trippers, we were high-rollers.  The air was thick with salt spray and we were in our plastic sandals ready to stab the nearest jelly-fish with our red plastic spade and collect wilks and barnacles in our bucket, even though they might just be watery stones. Rotted seaweed was a slip hazard underfoot, and you could chase your sister with it. And it wouldn't be my fault if my wee brother Bod fell out of his pram onto broken glass in the sand dunes.  Gulls lined up like snipers ready to make their move on your chips.  
Amusement arcades on the waterfront were our Las Vegas. Fruit machines were a sure-fire way to lose the ten pence your mum had given you. Shove-a-ha'ppeny took a bit longer to work its magic. The horses showed were the real action was. Not daring to breath, when you'd placed your two-penny bet. Different coloured riders atop their horses rolling up and down as they went around the track, red and blue, red and blue, then green, and at the last, yellow, or white. I liked to back the real outsiders at 15/1.  
'That's enough,' Mum would howl when you'd ask for another ten pence. But you knew she'd give in. We were on holiday. Holidays were only kid-on.
I wasn't much into card schools up the park or at school, because I didn't have any money. Spot the ball seemed straightforward enough it was in the title. Or dot the ball with a pinprick of an X to win a fortune. We never did.
Littlewood Pools, pick eight draws, and like sixties Pool's winner Viv Nicholson and you could 'Spend, Spend, Spend'.   My da had been half-past pissed and said to my mum, 'go an' beautify yerself, and we'll go to the Singers Club', and it wasn't a request. But at least it gave me the front seat in front of the telly, and I'd grabbed the coupon from behind the clock. Grandstand came on with the teleprinters printing out the scores onscreen. The coupon was in my lap, and we'd one, two, three, four draws. Then a fifth and sixth—we'd eight.
Eight draws. My sister was in her room with her pal, Karen, and I'd nobody to tell that I was going to buy a Chopper bike with the winnings. And anyway, she wouldn't have understood, it was like holding out a black stick for a blind woman, she didn't care about football and scores. That was man's stuff.  
Ernie had done much the same thing.  He's place two identical bets in two separate bookies in Dalmuir. A long-odds accumulator and for under £20 on 4th May, 1985 it all went on Shadeed, three o'clock at Newmarket. The bookies had tried to buy Ernie off. They offered something in the region of £100 000 to nullify his bet. But when Ernie declined, they took him down to Newmarket, it was great publicity, even when Ernie won £285 000.
Ernie Platt, aged 45, and described in tabloids as a 'Bachelor boy' was now a face in Dalmuir. He was a captive audience in pubs and the Oasis night-clubs, the centre of every party, until his money ran out, and he escaped to his wee internet-less flat in Paisley. I wouldn't have been able to ask him to check the eight-score draws I thought we had that day. The Sunday Mail and Sunday Post, the next morning, told a whole different story. But Ernie lived the life I missed.