Digging for gods.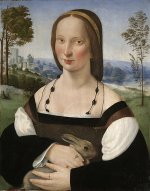 Mon, 05 Apr 2021
Rabbits are fine astrologers;
they loosen stars from their constellations 
to study after midnight, and hand
their prophecies to the first light of dawn.
Rabbits understand the bitter leaves
of how what shines
are so many worldless suns,
too far-flung to keep
any promise of warmth.
And in a burrow, there is love
cut into the earth, into deep
channels of faith, in connections
that course a warren - it is complex,
this digging for gods. Beneath 
the infrasound of night;
its smoke and fire and teeth, little frames
built for fleeing and hearts that rattle
engines for the locomotion of fear.
Though there is mallow too; pink,
sweeter, there is the cold breath of moon
that pales across the fathomless age 
of moss, and isn't time and space always
a medicine, how it tells you your smallness,
for me to be able to say I do not matter 
and if history should ask me,
this will be my answer. 
Image is from here: https://commons.m.wikimedia.org/wiki/File:Ridolfo_Ghirlandaio_-_Portrait_of_a_Lady_with_a_Rabbit_-_1871.72_-_Yale_University_Art_Gallery.jpg
Also on Twitter: https://commons.m.wikimedia.org/wiki/File:Familiar_wild_flowers_figured_and_described_(Pl._21)_(8768062965).jpg
https://commons.m.wikimedia.org/wiki/File:Sir_Hubert_von_Herkomer_-_Woodland_scene_with_rabbits_-_Google_Art_Project.jpg