A Coin for Belisarius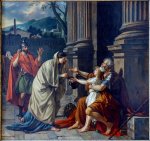 Mon, 05 Jul 2021
2 likes
He's the broken figure on that pub sign,
where Jack the Hat saw another's death
under Belisarius's begging bowl:
the two twins interred themselves now;
characters undreamed of by war poets
turned novelists, in exile.
Our Belisarius huddles in London doorways,
far from the easternized East End;
no helmet for his call to alms,
simply an incongruous schoolboy cap
filled with smaller, duller coins.
He's whistling meanwhile.
The former soldier doesn't see
the taxi-cabs and transit vans,
or pedestrian fraternity.
Lurching tanks and armoured cars
and more bloody infantry
pass his vacant smile.
The Last of the Romans is far from
Germania and has long since left
behind the modern Ostrogoth
of flowing beard and Mahdi glint,
save in the battlefield of his dreams
and waking nightmares vile.