Aphasia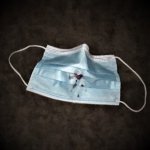 Fri, 27 Aug 2021
---
Words fall. Fail no sign.
The sign is the signifier is the signified 
Is black. Signs gone back to black.
Denote the paradigm is no sign.
A stroking, is garbled, a stroke garbles.
A tongue violent violates
Words when grow jagged spikes.
Seize seizure, breaks tongue falls.
Sign the signifier is. To communicate.
Words held half free break tree.
Words. Are signs are grief.
Slack face droops words.
Language is language is lack is.
To communicate horror. Is communicated.
Is garbled is not understood is terror.
Not to be understood is terror.
Terror is signified. Is slack leg face droop.
Signifier is language breaks link.
Signified reaching is drooping is broken is
Semiotics. Of grief. 
Photo (c) the author.