Night Hag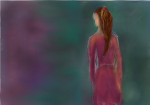 Tue, 26 Oct 2021
The sun sets.
I walk the half block from the bus to home. The sun paints the pavements orange, it flickers in the trees. I note the lengthening shadows. I smile.
As I walk up to the front door, I see my neighbour heading out. I offer her a little one-inch smile. I don't know her, really, but I envy her sometimes. Not all the time. But still, there's something about her that's so carefree, so completely untethered. She makes me think that she could just blow away on the breeze, fly anywhere, that she'd never look back, that she'd never ask herself: well, should I?
Not that I even know her name. Or what she's really like. Or what secrets she might be keeping in there behind that faded, yellow door.
Because we all keep secrets, don't we?
#
I warm up a microwave dinner and sit at the table, watching the shadows change shape, darken. I let a slow smile of anticipation spread over my lips.
I love my job. Or at least, I respect my job. Or at least I feel compelled, or challenged, or socially influenced to excel at my job. I can see no reason not to be the best. But it's the night I really belong to, when I can cast off the face people see and let the true self shine through. Nails become claws, teeth become fangs, a face of peach-porcelain is a mix of red and purple, marred with wrinkles and scars, with eyes as dark as tar, hair clumpy and angry, tangled as if it might be snakes or vines.
Legend calls me hideous.
Maybe those who could see me in my full glory would call it as well.
I say otherwise, I know my magnificence.
And so, I wait. I don't sleep, so there is plenty of time. Time to check emails, read news, maybe go over that report one more time to see if I want to change the wording, maybe double check those figures. I do all these things – claws are less of an impediment to typing than you might think – but what I really do is wait. Wait for the night to darken and deepen, for the air to cool and thicken. Wait for that moment, in the absolute epicentre of night. The moment where time stretches, when the dark is briefly eternal. The antithesis of light. It passes in a second for those who don't know about it, who don't understand it. For me: it could be an eternity if I needed it to be.
#
I don't need an eternity. Just a few hours – at least as time is reckoned in these captured seconds – so I can feed.
I step into night air so thick and so lightless that it clings to me like cobwebs. I love the viscous feel of it on my skin. I love the way it envelopes me. And the way I can sink into it, losing all this unwieldy, achy, temporary flesh and becoming one with the dark instead.
I float as much as I walk. Cloaked in heavy air.
Nobody sees me.
Nobody knows me.
#
And so I come to his house. Just an ordinary house behind an ordinary front lawn – a neat garden, green and symmetrical, dotted with flowers, a stepping-stone path that leads up to a wide, wooden porch. Little patio lights that are quenched now. A sliding glass door in which my reflection barely leaves a mark.
I have no need to open it, I can flow through the glass as if it were barely there. It ripples through me and can't hold me back. Nor could steel, or stone.
I smile a little at the homely sanctity of his kitchen. All neatly set out. Dated wall-paper, a new stove. Cups hanging on hooks. One for him. One for his wife. Smaller ones for his two young children. Perfect and wholesome.
I lick my lips.
He snores, so he sleeps in a separate room from his wife.
Convenient.
He doesn't see me. He doesn't know me. He has no inkling of my path across his floor, of my silent ascent to where he sleeps in his bed. I reach, slowing touching his forehead, brushing away a hair or two. The colour of straw, but soft, almost silken. A wisp of moustache on his upper lip is as soft, as sun-golden. His skin is smooth, despite the hint of stubble.
Does he dream of puppies and rainbows, of family and love? A good man, this one. With a tender heart and a willing smile, a security in the rights and wrongs of his world. I know he is patient and thoughtful and selfless. He wouldn't taste so good if he weren't.
And as he sleeps, I whisper in his ear. I remind him that he has never been the success his father wanted him to be, that he never lived up to his family name, to the hopes his family had. And I remind him that his mother longs for another grandchild, that she resents his tardiness in breeding for her sake – does it matter if the words have just a breath of truth in them? And his wife, so lovely, such a delicate flower, does he really believe he can keep her to himself? Has he not seen how his friend, Regan, cast his eyes all over her? And does he really think she doesn't return those looks? Well, if she, then why not he? If her thoughts wander, and perhaps her hands, then should he feel so bad if he does the same once in a while?
And those children. Young. But no so very young. Shouldn't he expect more from them than they give? Weak and selfish and so very childish. All the same things his father saw in him and tried not to be disappointed in but just couldn't help the fact that in all truth he was. These careless brats. Has he really raised such worthless lumps…?
Too much?
No. I feel it settling into his brain. These beautiful doubts that bloom with each carefully chosen word. And these will grow and breed, eating away at the peace and equilibrium of his life. And while they do. I will feed. I will gorge myself on the slow fall of his good character, sucking down each sliver of goodness or joy that I can take away from him.
I caress his cheek as I turn away.
"Soon, my love. We will see each other again soon."
#
I return to my simple little flat. There isn't much to it, but it's enough. A place of waiting. For the night. For dawn. Dawn will see me transformed. Dawn will see me walking into the office, briefcase in hand, challenging any one of them to think they can match me. Gorgeous and intimidating. I'll play that role to the hilt, and on days when I play it well enough, and they cower from my strength and competence, those days I will feed in broad daylight, beautifully unseen.
Then I wait, as dusk falls, as night takes hold.
I wait until the moment.
Picture credit/discredit: author's own work