The Adventure of the Bishop (Part 2 or 2)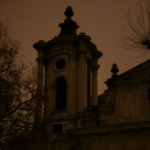 Sun, 31 Oct 2021
1 likes
Part1: https://www.abctales.com/story/maddan/adventure-bishop-part-1-or-2
---
Dated just nine days later than the telegram is the following letter. It has been folded and is well thumbed so I assume it was sent and that Doctor Watson retrieved it later for his records.
---
My dear Sherlock,
Work and other commitments will keep me from Baker Street until after Christmas so I thought I had better put the following to paper while it is fresh in my mind. I confess I see nothing to aid in your investigation but perhaps there will be some detail, the importance of which escapes my notice, which you will be able to use.
I arrived at half past nine on Tuesday morning as agreed and found the Bishop already risen.
I must be chronological. First I met Anne ____, who was on her way out for the day. She did not hide her disappointment at once more dealing with the assistant rather than the great detective himself. I tried to relate to her a previous case when I had successfully acted as your agent but she dismissed me before I could finish.
The bishop was still at the breakfast table reading the papers. His plate was unused and the toast rack was full (and the slice I had very fine). He is a man in his sixties, thinning hair, pince nez, clean shaven. He has a kindly face and was garrulous and welcoming.
He dismisses thoughts of poisoning as poppycock and assured me that he had been consulting his physician (Dr Saunders of Harley St. A very good man). He was visibly unwell, being pale of colour and drawing breath with an audible wheeze. He is gaunt, and it was noticeable that his shirt was loose at the collar. If he presented at my surgery I should be most anxious for his health. Although he is weakened I certainly would not describe him as listless. He was eager to talk, quizzing me most keenly about yourself and our adventures. He complemented me on my latest piece in The Strand.
I asked permission to interview the servants and he agreed readily.
Only three servants are permanently resident in the house; the butler and housemaid, who are married and have a small suite of rooms upstairs, and the coachman who is in the garret room above them. Also present that morning was the cook and a maid. I was told that another maid does the afternoons and a third helps out on laundry days. A boot boy had already been and gone. All have been with the house for some years. Only the coachman travels with the Bishop to his summer residence.
I talked mostly to the butler whose name is Shipman, the others being busy with their work. He is of advancing years and in a state of partial retirement with many of his duties being now taken by his wife and Anne. He confirms that the Bishop was in good health when he returned to London in August. He did not wish to contradict his mistress but he is sceptical of notions of poisoning. His own theory -I should be accurate, he did not use the word 'theory' but merely expressed a worry and asked my advice as a doctor- is the Bishop's habit of sleeping with the window open. He says that many days he finds it ajar and closes it. He has taken to lighting larger than usual fires in the Bishop's room but says there is no heat in the embers by morning.
None of the servants have had any recent health complaints except the usual winter colds.
So to Shoreditch, toward which we departed at ten thirty. The Bishop was keen to tell me about the church, which he says is one of Hawksmoore's finest. They are doing some repairs on the stonework and as part of this are opening up the crypts to check on the foundations. This is, he says, a once in a lifetime opportunity to document the architecture. The church is indeed a fine building but is done no favour by the neighbourhood in which it stands; the odour of the nearby slums fouls the air and homeless men and women crowd the steps together with their stacked belongings.
The coachman was to leave us for the morning so I took the opportunity to talk to him before he went. He repeated the warning you gave me about the area, telling me not to stray into the side streets or even to be in the churchyard alone. He showed me the pickaxe handle he keeps under his seat and says he would not venture into the area after dark without a mate to watch his back. He regrets the Bishop's decision not to have him wear livery, saying few, even there, would attack the coachman of a bishop if they knew him for one. I got the impression he felt livery would improve his standing generally.
Talked to the foreman of the works who repeated the same warnings. Two of his men have been knocked on the back of the head when alone on the site after dark, one very badly and unlikely to ever work again. Any tools left at night are stolen, down to and including wooden wedges. He complains that even the scaffolding gets taken if it is not made secure enough. He is flattered by the interest the Bishop has taken in his work, and was keen to relate the many accommodations he has made to help. He would not be drawn on the Bishop's health which I think he felt would be disrespectful to discuss.
Before rejoining the Bishop I talked also to a carpenter who joined our conversation. He has been much involved with making the vaults safe and so has aided the Bishop in gaining access to different areas. He reiterated warnings about the area but said he would rather "chance his luck in Nichol Street than sit down there with the dead like his Lorship."
I understood what he meant when I went below. The crypt was originally a large vaulted open space and would, the Bishop told me, have had an architectural beauty of its own. Over the years, however, it has been used for graves and its chambers bricked up. It is some of these chambers that have been opened to examine the foundations and the place is now a warren of ancient tombs. The best of the these feature stone coffins, the worst have only shelves crowded with the shroud-wrapped dead, hip-bones and teeth protruding where the cloth has rotted away.
In the furthest and most recently secured corner I found the Bishop taking drawings of carvings made on the arch of the final vault. I helped as best I could -  a difficult process for they were not carved deep and the we only had two paraffin lamps between us. The Bishop says the design, repeated on either side of the arch interspersed with three crucifixes, is unknown to him. I have included my own sketch for I know how much you enjoy a puzzle that others cannot unravel.
You will mock me for my superstition I know but like the carpenter I did not like to stay in the place. The quiet was unnerving and the shadows moved in the lamplight like lurking cut-throats. I was possessed the entire time with an absolute conviction we were being watched from behind – there was nothing in the vault behind us but an unmarked stone tomb. After twenty minutes I made my excuses and waited for the bishop in the church.
If I ever write this case up I shall make much of this episode and have my readers shiver as I did.
Lunch was with the vicar and his wife. We all ate the same food and drank from the same bottle. Much talk of the unfortunate nature of the area. The vicar, Rev. Osborne Jay, has been lobbying for improvements to the slums. He is moving on the subject, describing whole families in rooms smaller than our sitting room at Baker St. but paying twice the cost by square foot. Bishop sympathetic to their plight but sceptical of practical solution.
Mary is calling and I must leave off.
In afternoon His L. attended House of Lords (v. interesting to observe and was able to discover nature of the "political matter"). Will send second letter.
Your friend,
John
---
There is no second letter, nor is there a sketch of the carvings. In their place I shall insert two newspaper clippings. Both are undated and there is no indication from which paper or papers they were cut, though neither strikes me as being from a reputable source.
I do not know if they should appear here or later, nor how the doctor intended to make use of them.
---
MONSTER IN SHOREDITCH
Dog killed by mysterious creature.
[Subject of illustration]
The streets of Shoreditch were struck by terror this morning after a brutal and devilish attack the previous night. Arthur Morrison of Rivington Street was woken together with his wife by their dog barking and whining, Morrison, 44, a Lighterman, went outside to quieten the dog only to find the beloved family pet brutally killed. He saw a terrible hairless monster, as tall as a man on its hind legs and with long razor sharp claws, feasting on the bloody remains. On being disturbed the monster scaled an entire building in just a few leaps, much in the manner of a large cat climbing a tree. It then remained on the roof looking down with malevolent red eyes. Mr Morrison, who was much afeared, returned to safety of his house and bolted the door.
This comes only three nights after Hansom Cab driver Jack Ackroyd reported nearly running down an enormous creature on The Commercial Road. Ackroyd, 26, of London, also describes the creature as hairless and having red eyes. He can show deep claw marks on the side of his cab.
Police say they are aware of the incidents. Sources indicate that they are actively investigating reports that a panther may have escaped a private zoo.
---
The illustration is not included. The quality of the printing is very poor on this and if there is any truth in it at all it must be greatly sensationalised for I can find no other record of the events.
The next is of better grade and appears to be taken from a gossip column.
---
Raised eyebrows yesterday as the noble lords discussed plans to redevelop the slum estates of East London. There was much bewailing of the terrible conditions therein, and casting of opprobrium on those who profit from them, but surely none of the noble lords are also the hated slumlords – the possibility was not mentioned. The bill requires landlords to come forward in order to be recompensed for the forced purchase of their property and sideways glances were made at some who had helped defeat previous plans but kept their silence this time.
---
I now come to a page apparently from the doctor's diary. It is dated the fifth of January and Edinburgh University have confirmed that there is a page torn out on that date in the diary they have for the year. It is written in a hurried hand and I imagine the doctor quickly setting down the events of the day after returning in the evening, perhaps with Mary asleep upstairs.
It is the last we shall hear from him in his own words.
---
To Baker St. for social call but Sherlock keen we go to Shoreditch. "I too need a mate to watch my back" – good line for publication if ever comes to conclusion. Took all day and had to send boy to cancel dinner with G. Must reschedule.
S. mysterious as always. Had list of addresses to visit in side streets east of church. First ill favoured looking house. Factory foreman (???) quickly intercepted us and threatened violence. At second occupants reluctant to talk but S. has a way with these people. S. in old coat and stained trousers. Soon won over woman and she showed us around.
Evil place. Seven rooms in house. In six rooms twenty or more people live, cook, eat, sleep. In seventh men work putting soles on shoes. One lamp for light and fumes bad. In one room woman and six (!) children. Old woman put out of bed by sick son in another. Cough sounded consumptive. S. very precise with questions, asked all their rent and who they pay. It is a pittance they pay but they get a pittance for it. Gaps in walls I could put my fingers through. Water only running ten minutes in a day and not on Sunday for mercy's sake
Much moved by this. Must talk to Mary and do something for Rev. Jay. Could not call self Christian otherwise.
Third house no better look. Young mother nursing babe on steps without modesty. Other women loitering. Obviously ill repute. Unwilling to talk but S. suggested I walk to end of street so he could interview them alone. Had lent me stout cane to carry and kept this handy with back to wall. Men watched me from window and street.
Then to church where S. talked to the men loitering on church steps while I watched from across the road. At one point noticed three men edging close to S, one with something up sleeve (iron bar?) and shouted warning. They scattered when knew they were observed.
Back to 21B. S. much in thought and silent. When arrived said he would return and spend the night. Offered to collect revolver and accompany but refused. "I must be in disguise John. I must blend in so well even the neighbourhood cat will not notice me." Made him promise to telegram in morning let me know he was safe. Left money on table for it.
Will not sleep.
---
The following is from three days later. I have confirmed it is from The Times.
---
____ ____, the Right Reverend the Lord Bishop of ____, was found dead in his chamber yesterday morning after what appears to have been a shaving accident. Lord ____ had been suffering from ill health for some months and his hands were known to be unsteady. He had recently been linked to plans for clearing of the Nichol slum from which he denied receiving any benefit.
Obituary page 94.
---
And on the same day the following letter. It is addressed to Baker St. and the false name is transparent.
---
Dear Captain Sholm,
Thank you for the interest in our church and your very generous donation which will be a great help to our work in the area. You will be pleased to hear that the church foundations are sound and repairs to the roof continue apace. In answer to your query I can assure you that the vaults are being sealed up securely, exactly as they were before. The dignity and sanctity of all who lay here, including your ancestor, is very important to us.
Yours sincerely,
Osborne Jay (Vicar)
---
There is only one more document left. It is a quick scrawl on the back of an opened envelope. The envelope is addressed to Baker Street so we know where it was written, and the handwriting is undoubtedly the doctor's, so we know who wrote it. Who it quotes, I think, is obvious.
I picture Sherlock Holmes and Doctor Watson discussing the case at Baker Street, safe and warm, the fire blazing. Sherlock would certainly describe what, if anything, he had seen at night in Shoreditch, maybe he had discovered the meaning of the carvings on the vault, he would certainly have an explanation for the Bishop's poor health, and perhaps also his death.
I have confirmed from public records that the Bishop did indeed benefit from property in the Old Nichol, and that he was instrumental in preventing its clearance a few years before. I can guess, also, what money it was which Sherlock Holmes donated in a false name to the Reverend Jay. Beyond this, I confess, I am at a loss. I cannot believe that this was merely a simple matter of illness followed by accident or suicide, or why would the doctor plan to publish it, but I find other explanations hard to accept. I do not think it is my place to add my own conjecture.
I imagine Sherlock said the following in answer to some question and it so struck Doctor Watson that he seized the first available scrap of paper and immediately wrote it down. It was often the doctor's habit to close his adventures with some line of Sherlock's and I believe that is what he intended here. I shall do the same.
---
"There assuredly are monsters in this world. We are rid of one at least."