Frankly Speaking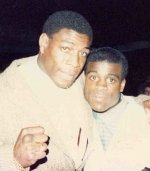 Fri, 26 Nov 2021
1 likes
I heard him this morning
on the radio, speaking to Gary
with the same bonhomie
that he used with Harry 
in his heydays.
I am talking of Frank Bruno
MBE, 1.9 metres tall.
who won the WBC world title
in'95 against Oliver McCall.
He was, and to his fans still is 
the numero uno.
He is a sexagenarian now,
(I send him belated wishes).
In a new book, he tells the nation
of sixty years of fighting
in and out of the boxing ring
and frankly speaks of his tribulations
with bipolar disorder.
I can only praise his honesty
and great determination
for overcoming his difficulties
and putting on a brave face
during all his adversities.
I think it's opportune to mention
he established a Foundation
to help fellow sufferers
and deserves our respect.
© Luigi Pagano 2021