The Visitor of Oscaloo (Chapter 4)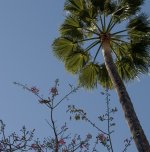 Thu, 03 Feb 2022
Click here for the previous chapter!
 
George George had that sinking feeling—both in the sense of experiencing dread (for the very first time in the skin of a human), and also because his legs were gradually bucking from underneath him. He eventually fell to his knees and then onto his back. He then hit his head with a thud on the linoleum floor of Mimi's kitchen, which caused his panama hat to pop off his head and roll underneath the dinner table. He remained lying there in a near-comatose state with his eyes widened and dilated in utter shock.
He was doomed. He was utterly ruined. What he'd been running from—the centuries that he'd spent trekking through the galaxy—had finally caught up with him.
All that was gathered from just a few words written on a yellow sticky note he'd spotted on Mimi's kitchen table. He had that sticky note gripped between his thumb and fingers.
Mimi had sent George George into the kitchen to look for traces of her missing grandmother Marianita. He didn't find her but he did spot the refrigerator—a most interesting looking contraption. He spotted the note when he walked over to examine it. 
Mimi, having heard the thud from all the way from the other side of her modest house, came running in. She had been in her bedroom to retrieve a walkie-talkie that she used to communicate with her friend Barbara who lived kitty-corner to her house.
"George George!" Mimi exclaimed.
She stood above her extra-terrestrial friend with her eyebrows raised and kicked his shoulder lightly with her foot. He only moved like a limp rag doll.
"Snap out of it!" Mimi said.
George George's pupils then shifted.
"What's wrong with you," she continued. "I need you here, this is a literal life-and-death emergency!"
George George, still with a distant look in his eyes, writhed about the floor clumsily, looking rather like he was suffering from a frat-boy-grade hangover. He then muttered softly: "He found me."
Mimi's eyes widened.
"What?" she said. "What are you talking about? Who found you?"
George George lifted up his hand that had held that yellow sticky note. Mimi expeditiously snatched it.
"What's this?"
She then read the note out loud.
Dearest R-r-r-r-r-r-r-r-r-r-r-r,
Surrender the egg.
                                     Love,
                                     G-g-g-g-g-g-g-g-g-g-g-g
"What the heck is that supposed to mean?" she exclaimed. "What egg?"
While the note might read like utter nonsense to the average Earthling, it made perfect sense to George George. Jawaeans spoke in a series of repetitious ticks and gurgles, and R-r-r-r-r-r-r-r-r-r-r-r was the closest approximation available using the Latin alphabet to George George's birth-name. G-g-g-g-g-g-g-g-g-g-g-g was fairly close to the name of the Jawaean who'd been chasing George George. As far as what the egg referred to…
"George George, come on, get up!" Mimi said. "I need you present. What egg?"
"He found me," George George repeated, ignoring the question, looking dead-eyed off into the distance.
"Playing dead's not going to fix the situation," Mimi said, kicking him again, harder that time. "My grandma's missing!"
"Ow!" George George protested. 
While it might seem that George George was a little quick to surrender to defeat, if a Jawean is chasing you and has found your trail, you'd might as well give up—even if you're another Jawean. Thus, it was the typical Jawean resolve to remain defunct and motionless once they've been tracked. With that said, George George realized that Mimi's grandmother was missing likely on his account, and he owed to Mimi to at least try to recover her.
"While you are getting your marbles together, I'm going to see if Barbara knows anything," she said, putting the sticky note in her front pocket. "Besides which, she and her mom are probably wondering why I mysteriously disappeared from the mall earlier today." She brought the walkie-talkie up to her mouth and clicked it on.
George George didn't know what Mimi meant by marbles, but he figured that sitting up and retrieving his panama hat from underneath the kitchen table might sufficiently fulfill that idiom.
"Seahorse Sparkles, Seahorse Sparkles, come in. Over," Mimi said into the walkie-talkie.
She was expecting an immediate reaction from her best friend—probably a frantic one with questions about where she'd been all day and then expressing some relief that she was back home safe and sound. However, all she got back was empty static. 
OK, Mimi thought. A 10-year-old disappears from the mall and it not only fails to cause an uproar in the neighborhood, but my best friend also hardly seems fazed by it. That's wonderful.
"Seahorse Sparkles, Seahorse Sparkles, come in, come in. Over," Mimi repeated.
Again, nothing.
She frowned. She then twisted her lips and took a deep breath through her nostrils and yelled: "Seahorse Sparkles, get your lazy patootie out of bed this instant and answer me. This is an emergency! Over."
Mimi waited a few long seconds until finally there a click followed by some rustling sounds. Then the tiny, high-pitched voice belonging to Barbara came in. 
"Holy mackerel, Mimi, what do you want? It's 15 minutes past 10!"
Mimi huffed and pushed the button.
"Ahem!" she said, more like saying the word and less like the sound of clearing a throat.
"Geez, Mimi," the voice continued, this time in a more choppy, quasi-theatrical fashion. "…Holy mackerel, Sleuthy Sassafras. What the heck are you doing calling me at 10:15? This better not be about werewolves again. Over."
Mimi then made a jagged vee with her eyebrows and said: "Hush! I told you never to bring that up again! This is about my grandmother. She's missing! Over."
"She's missing? Since when? Over."
"I haven't seen her since your mom picked me up this morning to go to the Oscaloo Shopping Center. Over."
Mimi let go of the button and there was silence. Then finally Barbara came back with a reply.
"Listen, I don't know what kind of game you're playing, but you know as well as I do that we saw your grandma when we dropped you off at 5! Over."
Mimi narrowed her eyes and looked at George George. He, having not followed their exchange with any degree of comprehension, simply stared back at her. 
Mimi was with George George all afternoon. Why would Barbara think Mimi was with her?
Mimi pressed the walkie-talkie button.
"I do not copy—I repeat—I do not copy," she said. "I did not come home with you! Over!"
"Oh, Mimi—er—Sleuthy Sassafras, this is very funny and everything, but if my dad catches me talking to you after bedtime again, he's going to take my walkie-talkie away. Over."
Mimi huffed. She was going to have to gain control of this conversation and fast.
"Seahorse Sparkles, we are at DEFCON 1, this is for real serious. I couldn't have come home with you. I was lostafter I saw Santa Claus. I figured you guys had been looking all over for me. I only just got home a few minutes ago. Over!"
"What do you mean you just got home?" she said. "You most definitely came home with us. We dropped you off at your front porch and your grandma even waved at us. Over."
What?
Mimi just stood there, squinting in silence for a few long seconds until Barbara's voice came back and added: "And you had these really weird hiccups. My mom and I were worried about you, actually. Over."
Mimi joggled her head. What? She pushed the button.
"Hiccups? What hiccups? Please clarify! Over."
"Yeah, it was really weird," Barbara replied. "They sounded something like Nya-Nyah. Over."
Mimi gasped and the grip on her walkie-talkie loosened. It fell to the floor and the batteries popped out and scattered along the linoleum floor.
"Cheese and crackers!" she exclaimed.
George George, still sitting on the floor, put a hand to his stomach and said: "I wouldn't mind some cheese and crackers. I am feeling a bit peckish…"
But Mimi didn't hear that. Instead, she was deep in thought, remembering an event that happened earlier that day.
~*~
Mimi was fuming after her meeting with Santa Claus at the Oscaloo Shopping Center. Not only had he refused to acknowledge he wasn't the real Santa Claus, but he also refused to sign a contract that would've held him legally liable if she didn't get the chemistry set she wanted for Christmas.
Then she heard that sound. It was coming from above her.
Nya-Nyah!
She looked up to see a bald man with a pencil-thin mustache who was garbed in aviator eyeglasses and wore a red Christmas sweater that depicted a boxer dog wearing a replica of that same Christmas sweater.
The man looked back down at her and let out a rather unsettling, maniacal grin. It gave Mimi the shivers, and she looked away. That was when she first laid eyes on George George, who was then being dragged out of the Santa Claus enclosure by Brad, Santa's elf/bouncer. She then looked back up, but the mysterious man was gone.
~*~
"Nya-Nyah," Mimi repeated to herself, softly.
George George, still thinking about food, said: "…or maybe some toast or a Cobb salad..."
Then Mimi suddenly remembered that there was another question—among the many unanswered questions—still smoldering in her mind. She reached her hand into her front pocket and pulled out the sticky note. 
"What does this mean by egg?" she asked.
"…or an omelette. I'll take an omelette."
"George George, focus!"
When he finally realized what she was asking, he hoisted himself to his knees so that he could reach inside his shorts pocket. From there, he pulled out a small, shiny, mint-green object that looked rather like a Jordan almond. 
"What is it?" Mimi asked.
"This is a retrograde chronometric displacement device."
Mimi wrinkled her nose. "A whatta-whatta-whatta?"
George George raised the corner of his mouth and said: "It aides in time travel."
He then made crescents with his eyes and added: "I invented it."
Mimi looked at George George and her jaw went slack.
"Are you kidding me?" she said. "Are you telling me that you can time travel, too?"
"Theoretically," he replied, putting the device back in his pocket. "I've never actually tried it."
"Dude," Mimi said, extending out her arms. "Then let's try it. Let's see who kidnapped my grandmother!"
George George grimaced. "I'm afraid time travel is a dangerous thing. There are certain risks—"
Mimi stomped her foot. 
"My grandmother is missing! We need to find her!"
Then there was a loud rap at the backdoor. Mimi dashed over to find Barbara standing there.
Barbara was a girl who was small for her age. She had a thick, disheveled mop of brown hair and had what might have been described as an unhealthy obsession with sea creatures and glitter. That was not only evident from her radio call sign but also from her pajamas that featured mermaids with pink fins. She also wore slippers that were purple and sparkly.
"Sleuthy Sassafras!" Barbara exclaimed.  "What was with the radio silence? You had me worried!"
"Oh sorry about that, I—"
Just then, Barbara looked over Mimi's shoulder and laid eyes upon that tall, lanky stranger in a panama hat. She gasped and took two careful steps backwards.
"Hopping halitosis…" she muttered to herself.
"Oh, don't mind him," Mimi said reassuringly. "That's only George George."
"Huh?"
"He's an extra-terrestrial from the planet—"
Just then, there was a sound coming from Mimi's front yard. Mimi narrowed her eyes and said: "What's that? Is that singing?"
"Christmas carolers?" Barbara asked, shrugging.
George George furrowed his brow, but he wasn't sure why people suddenly showing up at Mimi's doorstep was any more unusual than anything else that happened on this planet.
"Christmas carolers?" George George asked.
Mimi grinned and flipped her hand dismissively—the common mannerism she used for whenever she was able to address one of his more basic questions about local human customs. 
"They are singers who go door-to-door around Christmastime, usually asking for handouts of candy canes or eggnog or hot chocolate or something."
"Oh," George George said. He then put a hand back to his stomach. "Say, you think I could get some, too?"
"Oh for pete's sake," she replied, rolling her eyes. "I'll get you a banana!"
She then made a beeline to the kitchen counter, grabbed a bunch, and ripped one off. She tossed it to George George who clumsily caught it.
He ran his eyes up and down the fruit and fidgeted the stem with his thumb. He looked back to Mimi and asked: "Do you have enough of these for all the Christmas carolers?"
"Oh, we can ignore them if we want," Mimi replied. "My grandma and I like to watch them secretly through the blinds and see the looks on their faces when they realize that nobody's coming out."
Barbara—then looking terribly confused—said: "But why would there be Christmas carolers out this late?"
Mimi gasped.
"You're right!"
She then narrowed her eyes and listened more carefully to them. 
"And why are they singing The Girl From Ipanema?"
Mimi ran to the front door and flung it open.
There, she saw a choir of about a dozen elderly men and women garbed in pajamas and bathrobes attempting to sing that iconic bossa nova song. They had the melody and lyrics right, but they had the rhythm completely wrong. There was a man standing in front of the group who was waving his arms about flamboyantly like a choir director.
"Sing for me," he called out to them in a fit of pure ecstasy.
One of the singers, a cantankerous man with a gravelly voice, yelled back: "When do we get to sing Deck the Halls?"
"Never!" the man declared. "'Tis the season for The Girl from Ipanema!"
With his eyes closed and dancing with his shoulders, he turned around and suddenly opened his eyes. That was when he locked eyes with Mimi. He suddenly went still. Slowly, a maniacal grin crept on his lips.
Mimi recognized him: It was the same man she'd seen earlier that day at the Oscaloo Shopping Center—Christmas sweater and everything.
Just then, George George stepped behind Mimi and said: "Hey, that's some catchy tune." 
Banana in hand, George George then took a giant-sized bite out of it. He bit into it like an apple—stem, peel, and everything and struggled to rip the waxy, stingy husk away from his clenched teeth. Mimi looked up at him and twisted her lips in disgust as he awkwardly proceeded to chew it.
Beaming, George George swallowed what he could and said with his mouth still full: "This is delicious!"
He couldn't wait to swallow the rest of the masticated banana before taking another bite, even bigger than the last one.
Mimi buried her face into her palm.
Image borrowed from Wikimedia Commons