The Cookbook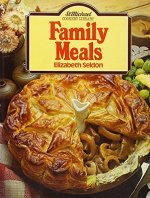 Thu, 10 Feb 2022
An evening of eBay browsing ends in an unusually large number of items in Rhea's watch list. Eventually she decides on just one purchase and pays 99p 'buy it now' plus postage for a St Michaels Family Meals cookbook; written by Elizabeth Seldon, first published in 1977, then costing £1.75. She'd been drawn in by the picture of the golden pastry topped pie on the cover. With a slice already cut and removed the mushrooms, onions and meat juices on show had made her mouth water.
The following Saturday arriving back from a supermarket shop, there is a neatly wrapped book-shaped package propped up against her front door. She lives in a flat and the building is secure so the posties generally leave her parcels thus. Having packed away her shopping she sits down with a coffee, two chocolate digestives (what a treat) and her new book. She has the afternoon off work and nothing else on her agenda so a pleasurable hour or two awaits. She has always loved books in an engage and make a relationship with them kind of way. Although she knows it shocks some she's never been afraid to turn back a corner to mark her place or underline a key phrase. A sign of enjoyment and respect not misuse or disregard as far as she's concerned. On opening Family Meals it's clear that the owner or owners before her felt similarly as along with the gravy and egg stains, the floury and fruity fingerprints, are comments on and additions to the recipes, and the photographs of completed dishes.
There's an inscription on the title page For Mum, on Mothers Day, all my love Jessie xxx Rhea wonders why the book was for sale. A clear out following Jessie's mum's death or move in to residential care is the most likely explanation. But maybe, Rhea thinks, in an attempt at more cheerful musings, a very late conversion to veganism  prompted the eBay listing.  
Flicking through the book is quite hard going as lots of the pages are sticky but Rhea doesn't mind convinced all the more of its usefulness and value. She turns first to the pie section quietly reading out loud the ingredients list (metric and imperial) and the recipe of the meat and vegetable one that led her to part with some money. Again, it seems as if she shares the same taste as Jessie's mum, or maybe Jessie herself, and their families, as 'really tasty this one, worth all the effort' is written in the margin. Turning to the casserole section she lingers on the Chicken and Mushroom Winter Warmer recipe interested to see that the ingredients list includes a mushroom soup mix as well as 'fresh, finely sliced closed-cup mushrooms'. The suggested herb for this, delicious sounding family, dish is thyme. Rhea loves thyme, and sage and rosemary; most herbs actually. 'Very nice indeed' is the reader's comment on this one. Rhea adds her own; 'MUST try'. Closing her eyes she believes she can really smell the heady mix of chicken, mushroom and herb. Her mouth-watering in imagined anticipation she wipes a drop of gravy from the corner of her mouth.  A few more main meal recipes in, after nodding along with the suggestions to 'double-up ingredients for a dinner party', 'don't be afraid to add more seasoning to this one', and such like, she turns to the puddings. Crumbles and bread and butter pud are her own personal favourites and once more the stains and the comments suggest she's not alone in these choices. 'Add extra cream and butter' feels somewhat decadent but she's come to very much trust the cook(s) before her and is therefore convinced that this will lead to an end of meal scrummy, if filling, sensation, and not an over-sickly dessert.  
Feeling some pressure on her bladder Rhea looks at her phone to check the time. It's more than three hours since she began her literary gastronomic adventure in the pages of her newest cookbook. She's hungry now as well as in need of a pee. Reading and thinking about food and it's careful, loving preparation certainly sharpens the appetite. Besides it will soon be time for The Masked Singer and she's planning another eBay trawl later. After a quick trip to the loo she spends a minute or two pondering on where best to house her new, but already much loved, book of blueprints for taste-bud treats. On her favourite bookcase in-between Nigel Slater's Toast (a Christmas present from her brother) and the Oxfam Vegetarian Cookbook (bought a few years back ironically, or maybe not, from the town's British Heart Foundation charity shop) feels like just the right spot.
Once in the kitchen Rhea opens the fridge door and chooses one of the six 'buy-two-get-another-one-free' ready meals she bought earlier to keep her going for the next few days. Next she removes the cardboard wrapping, vigorously pierces the cellophane top of the container several times, pops the cottage pie, complete with carrots and peas, dinner-for-one in the microwave, leans back against her pristine, clean-as-new oven and waits five and a half minutes.