Florida (1987)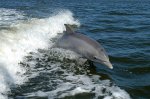 Sat, 12 Feb 2022
Audio version at https://soundcloud.com/user-62051685/florida-1987-mp3?si=2c3f333ebb2a4a0...
Florida (1987)
Rays of sunlight glint through blinds,
water cascading on tiles, shower sounds,
muffled murmers, closed bathroom door,
I watch news scrolling, ticker - indolence.
Reports of Republicans and Democrats,
intrigue and lies in a motel bedroom,
above a pitcher throws a curveball,
Cubs caps worn in a sun-baked crowd.
Silhouettes at sunset, life on the dock,
watching white horses, gentle waves,
then life stops, transience of existence,
grey fin emerging, sea-surface breaking,
aquiline body, rows of tiny teeth,
smiling it seems: leaps, twirls, submerges,
back once again, below the waterline,
Bottlenose dolphin has stolen my heart.
Spellbound, frozen, camera frames clicking,
a fleeting moment in time amongst many,
silent regret of encountering this alone,
a memory unshared, a memento of my own.
Image free to use via WikiCommons at https://en.wikipedia.org/wiki/File:Tursiops_truncatus_01.jpg