Easter 2022 by Alfred N. Muggins

Image: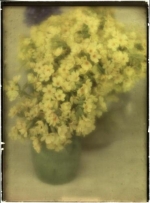 Sat, 07 May 2022
1 likes
    The whole world prays as Putin's stooges, young inexperienced soldiers, pilots, sailors and generals reign down death upon civilians turned into soldiers defending older folk, mothers and children, ordinary people defending their own homeland, a citizen army fighting for their right to decide their own governments and ways of life.
    Are some of the invaders mercenaries from other lands? Siberia? Chechnya? Syria? They are soldiers fighting for pay, under orders from the all knowing wise leader above, who knows everything, and judges their lives fit for the roll of his dice. They are his pawns in a superpower game, which has not been seriously played for years.
     The defenders, and observers from all of Europe and America, from many lands around the world, fly the simple flag of Ukraine, the blue sky over the land of yellow, of sunflowers, cooking oil and bread. They shed tears, sympathy and prayers, feelings of solidarity strongly felt. As Easter approaches, first in Rome and then one week later in the Orthodox East, prayers, silent and vocal, intended and unbidden, are made in desperation and sympathy. They pray that the Dictator will stop and decide it is not worth it any more, that the cost is too great.
     Unsurprisingly he does not seem to even care, not enough anyway. What will satiate him? What can be enough? What will persuade him to turn his missiles the other way, to send his tanks home, and his ships back to port?
    Would the deaths of his young soldiers and sailors, the cries of parents losing sons and wives losing husbands be enough? Would the rape of innocent and defenceless Ukrainian women, or the stories of the deaths of completely innocent children be enough? Would the wailing or the silence of the elderly who have lost everything they own be enough, or the millions of uprooted people who have lost their homes and their stability?
Where is forgiveness, charity, kindness and mercy?
It does not reside in the Kremlin for sure!
Will there be a saviour this Easter?
There is always hope for the future,
And a feeling that one day there will be justice,
That through suffering there will once again be peace!
(Easter was 17/4/22 in the Catholic and Protestant West, and 24/4/22 in the Orthodox East this year)