Where's the Z?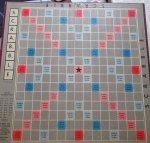 Thu, 25 Aug 2022
2 likes
Some like the stress,
and mental strategies of chess;
but my mother and I liked to dabble
in playing scrabble – try for a double
or triple square covered, inflating my score,    
but when you have four
'I's or a 'J','V',' 'X' and 'Q'
– useless without the elusive 'U' … ?
(though now 'qoph' and 'qats'
and 'qintar' and 'faqir'
'qi' and 'xi'and 'za' and 'zo', 'ja' and 'jo'  
are allowed).
The serious player watches, prepared
for when he may pick up these awkward letters.
"Which are still in the stack in the sack?    
Don't want to be stuck with the 'Z' or 'Q'  at the end ahead",
for it's 10 off your score and also, what's more
10 will be added to that of the one who already has won
despite all the chatter of those who just dabble and potter,
– prolonging his turn with a glower that's stern
as his mind twists the letters and easily betters
our limited inventions.
At the end of one memorable game played
by my husband and mother
while I was away with first new-born child –
the bag was empty – 'I haven't got the 'Z'?', he pondered..
'Can she play it?'
Typically, she hadn't missed it, or wondered..
No, the game was complete – neither had got it:
puzzlement, and both arise – what's on the seat
below my lovely disorganised, casual mother –
a tile labelled 'Z', somewhen she'd dropped it, sat on it
– least said!
wry grin from the serious player!   
[IP: Board Games]  This is a rework of a piece I wrote for an IP in 2013