The Pregnant Waitress (part 2 of 2)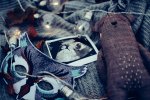 Mon, 14 Nov 2022
1 likes
[This is part 2 of this story, read part 1 here]
*
'It's not going to work now,' said Marnie. 'I'm so sorry. We can't bring Sonya over here.'
Marnie sat in Arial's lounge, a ball of wool on the floor beside her. The morning's lesson was knitting: an uneven row of multi-coloured bunting hung above the fireplace.
Arial put down her needles. 'Don't get the fear now, darling.' She pulled Marnie into a hug. 'Everyone gets nervous before the big push.'
'I'm not pregnant.'
'I mean before the operation. The stealth mission.'
'We can't do it now.'
'Is it your parents?' said Arial. 'Have they got to you? How did they find out?'
'No – '
'Because if you can't come yourself Cassia and I are quite happy to go on our own. We'll bring Sonya back here and your parents will never know. I have bolt cutters for the shackles, but what would be be really useful is if you could get Sonya to send over a house key. Much quieter that way. Looks less like an abduction. She can send it special delivery. I'll front the money.'
'Do I have to do kidnapping?' said Cassia quietly.
'It's only kidnapping in the eyes of Irish law,' said Arial. 'Guerrilla stroke freedom fighter, remember?'
'I think it would just work out better,' said Marnie, 'if I send her some money so she can come over herself.'
'I've already booked three nights off work next week. Maybe I should come talk to your parents.' Arial picked up her needles again, set off knitting at a furious and noisy pace. 'Everyone becomes more reasonable when you discuss things face-to-face. Half the problem with the world is that we don't look each other in the eye when we disagree. I have something of a reputation for convincing people.'
'That was what you said when we went round the house of that man from the council,' said Cassia.
'You can't talk to my parents,' said Marnie.
'A discussion can't be harmonious if people call the fire brigade as first line of argument,' said Arial.
'I really don't want you talking to my parents,' said Marnie.
'No one's saying anything to your parents you don't want,' said Arial, gripping Marnie's arm. 'That's all part of the code of conduct.'
*
'Did I forget to go to parents' evening?' Vincent put his head around the door of Marnie's bedroom. 'Was there some email I didn't see?'
'School don't send emails in Year 11,' said Marnie quickly.
'One of your teachers wants to talk to me about philosophy,' said Vincent. 'Do I have to? Do you want to talk to her?'
'What teacher?' said Marnie. She put down her phone beside her on the duvet.
'You put down your phone,' said Vincent.
'You asked me a question,' said Marnie. 'Who called you? What did they say?'
'No one called,' said Vincent. 'She's downstairs.'
In the lounge Arial sat on the sofa. She was dressed in a blouse and trousers, but the blouse was way too big for her and exposed her flower-patterned bra every time she moved. Lana sat on the arm of the sofa, looked up as Marnie appeared in the doorway.
'What did you say you teach again?' said Vincent.
'Graphics,' said Arial. 'I do fonts. And sport. And health. Personal finance. You know, PFSHE.'
'Didn't you say this was about philosophy?' said Lana.
'That's the P,' said Arial. 'A bit of everything, really. What with all the cuts.'
'I might have missed some parents' evenings,' said Vincent.
'Don't have parents' evenings in Year 11,' said Marnie. She hung onto the doorframe, unable to decide whether inside or outside the room was better. Better was the room catching fire, 999, ambulances taking Arial, Mum, Dad quickly away to different hospitals with minor, non-threatening injuries.
'Is this about Marnie's GCSEs?' said Vincent.
'More important than that,' said Arial. 'I'm here because Marnie mentioned, in class discussion, that there were some religious considerations. Around certain issues. In the family home, so to speak. I, that is the school, is sympathetic to religious considerations, of course.'
'No one here is religious,' said Lana. 'Why did you think we were religious?'
'Sometimes people hold views that hark back to a childhood religion. Say, for example, on abortion,' said Arial.
Vincent glanced at Marnie, his face sad in a way she had never seen before. Marnie watched the quiet in the room extend, each person taking their turn to be quiet, Dad then Mum then Arial then herself, a compound interest silence.
'You think we don't know about abortion?' Lana stood up from the sofa, her voice quivering. 'Abortion has already been discussed, at length. We don't need your school telling us.'
'We take a holistic approach to education nowadays,' said Arial. 'Full pastoral care.'
'We have all the care we need, thank you. We can look after Marnie. You need to go now,' Lana fixed her gaze on Arial.
'There's nothing the matter with me,' said Marnie.
'See,' cried Lana. 'This has all been talked about already.'
'I can see you have issues with authority,' said Arial. 'Which is completely reasonable, of course. Which is why this is good that you shout it out. That's how we get through the fear.'
'Maybe you should leave now,' said Vincent.
'No one here is afraid of abortion!' said Lana.
'Well, that's good,' said Arial. 'Now we're seeing some progress. Shaking down the dogma.' Arial picked up her coat and headed for the door. 'I think I'm all done here. I'm glad we're singing from the same hymn sheet. If we sang hymns that is.'
*
'Who is he, this boy?' Lana lay down on Marnie's bed, tried to spoon her through the duvet.
'I don't want to talk about it.' Marnie pulled the duvet higher over her head.
'Is he your boyfriend?'
'I don't have a boyfriend.'
'A friend with benefits?'
'It wasn't anyone.' Marnie shuffled her hip and shoulder towards the wall, but Lana followed, matching her movements.
'You did this yourself?' Lana raised her head to peer at Marnie. 'Is this a new thing? How does this work? You collected it from a boy at school?'
'I'm not even into boys,' said Marnie quietly.
They lay there in the dim light. Marnie watched the shadows from the blind darken and lighten again as a bus passed the house. Lana pulled Tom, Marnie's stuffed rabbit, tightly to her cheek.
'What about girls then?' said Lana.
'Maybe.'
'So you can just tell me a name. A fake name. And how this works now. Getting pregnant with girls.'
'I'm not going to have a baby,' said Marnie.
'If you're not having a baby,' said Lana, grasping Marnie's hand. 'we should make the appointment. We can make the appointment and go together?'
Marnie stared at the wall. 'No.'
'Then I'll make the appointment and you can go on your own.' Lana swung herself up on the bed. 'Let me do that for you.'
'I can do it myself,' said Marnie.
'And then how about a holiday?' Lana's voice whooped up an octave. 'Where have you always wanted to go to?'
'Dublin?'
'Oh, right, to be sure,' Lana laughed, too loud. 'Okay then, let's go to Dublin. You get this done and we'll go for a few days, just you and me.'
'I meant on my own.'
'You're fifteen,' cried Lana.
Marnie sunk her head into the pillow. 'You have to work, anyway.'
'I'll find the telephone number. I'll find it right now.' Lana stabbed at her phone. 'I can wait outside the room whilst you speak to them and you hand me the phone to pay. I don't even have to speak.'
'Can you let me have space to breathe?' said Marnie.
'Take my credit card,' said Lana. 'I'm dialling the number.'
Lana pushed her phone at Marnie, and Marnie turned so it lay on her stomach. The green phone icon expanded and shrunk again onscreen. Lana marched out of the room, carrying Tom, and pulled the door behind her. Marnie grabbed for the phone, pulled it under the duvet.
'Hello, Marie Stopes?' The woman was elderly, the kind of friendly woman Marnie had imagined grandmothers were before she met her own.
'Hi, Marie,' said Marnie.
'How can I help? I'm not actually called Marie, by the way. I'm Sandra. Though you can call me Marie if you like.'
'I don't need help,' said Marnie. 'Is it okay if I just stay on the phone for a little while?'
'You do whatever you need,' said Sandra. 'I'll just be here. You let me know if you need me. Do you want to give me your name?'
'No,' said Marnie. She lay there in the dark with the phone against her ear and listened to the woman's breathing on the other end of the phone.
The bedroom door creaked open.
'Do you take credit cards?' said Marnie.
'You don't have to pay, dear,' said Sandra. 'The NHS pays.'
'Cash,' said Marnie loudly. 'So I have to pay cash.'
'No cash needed.'
'I'm paying cash.'
'Do you want to set a date for an appointment?' said Sandra.
'Yes, that's great, thank you. Bye, Marie.'
Marnie flipped the duvet over to expose her head.
'I've done it,' she called.
Lana ran back into the room and threw herself onto the bed.
'Please,' said Marnie. 'I need to pay in cash.'
'I'll get it for you.' Lana jumped from the bed, circled the room and sat down again. 'I'll get it from your dad. Dad wants to help. He wants to help but he wouldn't come and say anything himself.'
Lana stood up from the bed again.
'Mum?'
Lana spun round and almost knocked into Marnie stood up behind her. Marnie pulled her into a hug.
'Thanks,' said Marnie.
Lana clung onto her.
'You're hurting me,' said Marnie.
*
At ten the next morning Marnie scaled the back fence and dropped into the garden. She lay there for a few moments, on her side, and wondered how it would feel to be dead, out cold on the paving slabs. They'd find her, there in her blazer, the headline Teenage Schoolgirl Slaying, and in no time it would go round school that Loner Marnie had topped herself. When it was no one at school's business, since she didn't go to school any more. But I wouldn't want Keavie to find me, she thought, and slunk quickly to the back door and opened it with her key.
She waited at the kitchen table, drinking juice, telling herself she was not going to breathe again until the clock hands reached exactly 10.15. She pressed the phone screen with her nose.
'I've sorted it,' said Marnie when Sonya answered. 'You're coming to England.'
'I did say there's no way I'm pretending to be a baby killer.' Sonya's tone was bored, resigned, as though this was Marnie's eighth call in as many days to say this time she was ditching heroin for sure.
'You don't need to. I've got money. Cash.'
'Really?'
Sonya's surprise caused Marnie's heart to swoop. ''And I've got it all figured out. I'll use some to buy you a flight, and the rest save for rent on a flat.'
'How much money?'
'Three hundred and fifty pounds.'
'I need to know in euros, obviously.'
'Wait.' Marnie took the phone from her ear, quickly in case Sonya used the silence as reason to end the call. 'Three hundred and eighty euros sixty three.'
'Where did you get that kind of cash? You don't have a job. Did daddy give it to you?'
'That doesn't matter.'
'Can you get more?'
'So shall I buy the flight then?' Marnie paused, willing Sonya's yes. 'And I'll start looking for flats,' she filled the silence. 'You'll need a passport. You've got a passport, yes?'
'Why don't you just send me the money? It'll be easier if I buy the flight.'
'But I can just go to a travel place here and buy a flight. I think you get it on email, the ticket. I'll email it to you.'
The phone was silent. Marnie took it from her ear, looked at the screen, the clock, the juice, the washing up, her blazer pocket with the felt-penned school logo.
'I could send you just the cash, maybe,' said Marnie. 'Though I'm not sure – how do you send cash?'
The phone remained silent.
'Sonnie?' said Marnie. Her phone pinged.
cn't just leave my job & everything here, cn I? said the message.
y u now msging?
dnt crowd me #overbearing,' sent Sonya, accompanied by a picture of a Labrador with a squirrel on its head.
but i <3 u, Marnie captioned a cat riding on the back of a horse.
stil crowding. ive got people to think about here. cnt just leave my parents all alone, can i? do that & mum would go get more chickens. you hvnt lived with chickens.
yr 19. u cn do what you like.
17. next week
u said 19
do I hv to tell u everything? cnt a girl hv any secrets?
*
'You weren't down at the lake,' said Cassia when Marnie finally answered the door. 'I thought you might be ill. I bought these in case you were ill.' She shoved a round clear-plastic container at Marnie, filled with flapjacks. 'You don't look ill.'
Marnie took the container and pulled Cassia inside with her other hand. After the sixth ring of the doorbell Marnie felt forced to answer, the regularity of Cassia's rings indicating a willingness to continue until an answer came or the doorbell gave out, whichever was soonest.
'Or maybe you just didn't want to see me?' Cassia stared, as though their friendship depended upon keeping Marnie in the tractor beam of her gaze. 'It's okay if you didn't want to see me. You can keep the flapjacks, anyway.'
'I need a lot of time alone,' said Marnie.
'To mourn the baby? The foetus?' said Cassia. 'Mum said there needs to be a ceremony. Did they make you go to church? The Catholics?'
'Sonya didn't come for the abortion.' This last word Marnie spoke louder, to indicate its lack of power.
'She's having your baby?'
'It could never have been my baby.' Marnie thought about telling Cassia everything. Don't friends do that, tell each other everything? Only maybe. Cassia is only maybe my friend. 'She's not having my baby,' said Marnie. Everything can still be mysterious, or just confusing, she thought.
'Is that because of the news?' said Cassia. 'She can have an abortion in Ireland now, can't she? Maybe she can be the first.'
'I don't watch the news,' said Marnie.
'They've legalised abortion in Ireland. I'm doing current affairs this week.'
'I knew that.' A black rock sat in Marnie's chest, in anticipation of Sonya's indignant anger at the news, at Marnie's unspoken complicity in the regression of the justice system. Sonya is not speaking to me any more, she thought. The rock sunk through her, took up residence deep in her stomach.
'Did you and Sonya know Iceland has a gay President?' said Cassia. 'And that Oxfam has been infiltrated by paedophiles?'
'Sonya was lying,' said Marnie.
'No, Iceland's President is gay,' said Cassia. 'I read an interview with her.'
'She was lying about being pregnant,' said Marnie. 'She lied about being pregnant to try and get money out of me for an abortion. That's why I had to end it.'
Cassia stood in silence, biting her lip, then put her arms around Marnie and quickly squeezed her.
'She told you this when you went to Ireland?' said Cassia.
'We never saw each other for real. Never had the chance to be together, not actually,' said Marnie. 'We met on Instagram.'
'I'm sorry,' said Cassia, and hugged Marnie again.
When Cassia was gone Marnie found an old envelope in the recycling bin, and a blunt pencil. On the front she scratched Mum and Dad, and on the back, Didn't need the money after all. She slipped the pile of tens and twenties inside and propped the envelope against a jar of marmalade on the kitchen table.
But then what if I might need this, she thought. Deposit for a flat. Or dance lessons. Baking materials. Or going to Romania. They could think of it as a kind of investment.
She took the notes out again, and slipped the envelope into the recycling box.
---
Photo by Daiga Ellaby on Unsplash