I'll admit I'm a person who needs more friends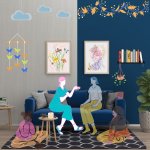 Wed, 13 Jul 2022
It has come to my attention that I am suffering from a lack of friendships. This feeling grew inside me as I was folding small squares of paper into origami hearts to include in our wedding favours. Between my partner and I, we are expecting around 200 guests. A few of these are my friends. So why the deep longing, the melancholy? 
As an only child, and someone who was frequently bullied growing up, the sticky touch of loneliness is familiar to me. It doesn't mean that I don't have friends.
I have my friends from home, the ones in my hometown. My old friends. Some of those relationships date back more than twenty years. They need occasional maintenance, but they are there. Certainties. Rocks.
I have my friends from university, spread out across Europe like chocolate chips in a cookie. Some of these links have loosened over time, and their number has dwindled. The ones who stayed are in it for the long run. 
I have my friends here in my present city. Or rather, I have one close friend here, one I see every few months, the pairfriends I see sometimes together with my partner. 
And I love my alone time. I'm an only child, I need space and silence and room to think. I don't have issues entertaining myself. Heck, I'm a writer and an avid reader, new realities are always at my fingertips.
But alas, I was not made to thrive in constant, prolonged, solitude. And my long-distance friends, whom I love from the bottom of my soul, are too far. I need friends. 
I need friends to meet for breakfast over the weekend. To go to concerts together. To go dancing together. 
I need friends to sit and chat with me over tea whilst I fold origami for the wedding. 
I need friends to support when they are sad and cheer on all their endeavours. 
I need friends with an unspoken agreement for a weekly coffee and cake. 
I need friends to go to the cinema and have trashy film nights together. 
I need friends to go on weekend trips with. 
I need friends who create connections, who talk to me about their other friends and then add "You know, we should all hang out together". 
I have come to the conclusion that being extroverted is only an advantage if you fit at least one of three conditions:
- You're in school
- You work in an office
- You conform to the general expectations of your interests and behaviours
I have always been extroverted, I have always deeply needed social connection. It only made the bullying worse, because I kept looking for that acceptance, I kept yearning for a group to call my own. I convinced myself I was introverted because it was better than accepting that I was lonely. 
It took me a long time to start accepting who I was and what I needed, because I grew up scared of rejection, and because the general notion on social media is that extroverted people are obnoxious, loud, and superficial. I can be obnoxious, especially when I'm thrilled to be in a social setting, and I can be loud, because I'm Italian, but the connections I need are not superficial. I need friends, not acquaintances. 
Being more mindful of my social needs led me to some conclusions:
- I need creative connections to nourish my own creative muscle;
- I need to stop trying to fit into a box, especially one that doesn't belong to me: trying to go through life as an introvert depleted my inspiration and worsened my anxiety and bouts of depression;
- I need to accept that needing social interaction in my thirties is not a flaw; the flaw is in the mindset that after a certain age your social needs are fulfilled by your partner, family and workplace;
- I also need to accept that sometimes people genuinely don't have the time, energy or interest to foster connections outside of partner, family and workplace; compromises can be reached, or maybe they're just not the right people;
- I need to accept that my partner is not the only person I want to do stuff with. I don't need to feel guilty or ashamed of that. Or of the fact that my skin crawls when I read that kind of sentence phrased in a romantic way: "I knew you were the one because you were the only person I wanted to travel/watch films/have takeout with". Ugh. 
- I need to accept that I'm envious of introverts. Yes, and of people who only want to spend time with their partner. My life would be infinitely easier and happier if I had been an introvert. I'd have suffered less from being ostracised as a child, and I'd be perfectly content having takeout with my partner every weekend instead of thinking of the themed dinner parties I'd love to host. 
At the beginning of next year, we will most likely move away from this city which I've begrudgingly learned to like, but never loved. I hope it gives me a boost of motivation to seek and build the network I need. For now, I'll keep folding origami, holding dear the friends I have when I can, and planning. And hoping.