Godot's Ghost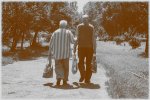 Tue, 28 Feb 2023
Demented, dis-mind-ed, un-you-d.
"Is he violent?" They ask,
I hear you say "as if" in my head.
The questions, the intake of breath
at the bruises, yours and mine,
I blame the cupboard door for my blackened eye.
Yours are the fingerprints on your arms,
where I try to stop you fighting the fog,
you are blameless, for you are gone – yet still here, waiting.
"We think you need some help," they say,
but I don't. You don't. We don't.
We want Dr Feelgood's magic elixir.
"Someone once a day, just to help,' a shrug, 'A little.'
A little, a lot, a stranger coming daily,
immune to our indignities, unmoved by our shame.
I know that you know. We know:
there is nothing to be done,
but wait for Godot's ghost.