The Campaign for Terrence Oblong - Probe Plus Records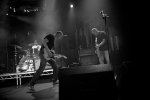 Sat, 06 Feb 2021
1 likes
Tony Wilson's Factory records turned down my two favourite bands. The Smiths, of course, had other offers, but Half Man Half Biscuit seemed too off the wall even for the most indie of indie labels. Luckily, lead singer Nigel Blackwell had the foresight to give a copy of his demo tape to Geoff Davies.
Davies owned a record shop, Probe Records, a Mecca for Liverpool's more bohemian music fans, even employing future stars like Pete Burns (Dead or Alive), Pete Wylie (Wah) and Paul Rutherford (Frankie Goes to Hollywood). The shop sold a mix of second hand and new records and imports, always with its finger on the pulse of the latest trends. 
Probe Plus, the record label, started out life from the above-shop-flat owned by Geoff Davies, record shop owner, music enthusiast and now record label boss. He was frustrated that local bands he thought had talent were being ignored by the major London-centric labels. Many indie labels were formed by record shop owners for exactly this reason, the film Good Vibrations tells the story of Terri Hooley, the Belfast record shop owner whose subsequent label signed the Undertones.
Geoff Davies followed the same path as Hooley but he never had a hit like Teenage Kicks, Half Man Half Biscuit would be the biggest act he ever signed and they would just about keep the label afloat. When Geoff divorced the house/shop/label was split in two, his wife kept the (profit-making) record shop downstairs, Geoff kept the (loss-making) record label. 
The label had a back-to-basics punkish sound, with Davies rejecting the over-produced recordings fashionable at the time and wanting bands to sound the same in the studio as they did live. Davies signed Half Man Half Biscuit in 1985 after hearing a demo tape. He recalls: "I remember listening to the band's opening song, 'God Gave Us Life', in the car and hearing the line 'God gave us life so that we could take sweets off strange men in big cars and get driven to the woods to stroke non-existent puppies', and I thought that I had to sign them."  
The resultant debut album Back In The DHSS' was the biggest selling indie album of 1986. Despite 'hits' such as Joy Division Oven Gloves and the Trumpton Riots, the band has shunned publicity, rarely does interviews and once turned down an appearance on the Tube because Nigel chose to see a Tranmere Rovers game instead. More recently, the Band were 'unavailable' for a Big Issue feature on their music, which instead focussed on their hardcore fans, who Blackwell would point to at subsequent gigs and say "I've been reading about you."
Probe Plus is the ideal home for the band. I remember ordering a CD by mail order and three CDs arrived over the course of a week. On the fan sites, numerous others complained that their cheque had been cashed yet their CD had never arrived. I ended up posting my extra copies to fellow fans whose paid-for copy hadn't arrived, an act that almost perfectly embodies the Probe Plus ethos. 
With songs about celebrities (The Len Ganley Stance, I Hate Nerys Hughes), football (I was a Teenage Armchair Honved Fan) and a unique take on the banalities and vagaries of day-to-day life, HMHB ploughed its own unique lyrical furrow and would be the single biggest influence on my own writing. In recent years I have set myself a writing challenge ahead of each new album, ten stories about offal in the run-up to Urge for Offal, and stories using the titles of all 13 songs on I Don't Care About Your Creative Hub Just Get Your Fucking Hedge Cut. 
Probe Plus would provide temporary accommodation to two more of my favourite acts, The Tansads and Attila the Stockbroker, but it would never have a major act and would struggle to break even, with Davies having to hide from the bailiffs on more than one occasion. 
I have met Geoff. As an HMHB fan it would be hard not to, he has run the merchandise stand at HMHB gigs for decades. HMHB gigs are deliciously home-spun affairs and typically include a support act from the Probe Plus stable, often JD Meatyard, whose 'Fuck is the Most Beautiful Word in the World' I often cite in arguments about use of profanities. 
Half Man Half Biscuit have released 13 albums to date and perform a handful of live gigs every year, earning the band 'enough to pay for a season ticket'.  Bernie Connor in the Guardian described Geoff Davies as the second most important man in the history of Liverpool music after Brian Epstein. Unlike many indie labels, Probe has survived and is still going 38 years after it was launched.