running in the rain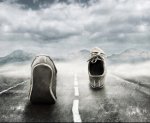 Mon, 24 Aug 2015
There is something compelling 
and slightly unsettling the way
the rain strikes my face 
hits my cheeks and my lips.
Droplets drum a delightful pattern
of beguiling mellifluent rhythm. 
Hypnotic and mesmerising,
saturating and wetting 
my body, breathing heavy 
as I sprint and dash through
wet mud and damp grass,
splattering hot thighs and calves, 
soaking my toes through my 
shoes, wet t-shirt clinging to 
steaming chest and belly.
The clouds moving and dancing,
entrancing and wooing 
me to stay all day, all week,
all year - run forever and never
return, never yearn or go back
to the reality and sensibility,
forget verity or actuality.
Become the rain and ascend 
like mist to the heavens.
Dazzle and Sparkle;
forever be part of the cycle.
Enrich the earth, nourish ground,
return to the sky, start again,
remain with the rain,
I've been won.