Tattoo man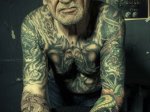 Wed, 28 Oct 2015
walks down street,
shaved head bowed -
shoulders slumped
and leathered features
weathered brown.
Dog end loose between 
the yellowed digits -
sucks his smoke from cup of hand;
eyes dart needles,
teeth dyed tan.
Reek of last night's beer 
leaked into denim -
arms exposed and legs bled 
blue blotched ink from foot to neck.
Faded rainbow of illegible letters -
animals and vacant girls,
a skull, barbed wire and roses
in amongst the mess of bliss
and horror.
Even his face has not escaped
the 'art' attack - he's given 
permission to graffitists
on a mission to cover every crack
and virgin inch of him with...
something - 
Chinese lettering, reading 
unexpectedly obscene instead of cool –
the fool! Proud
Tattoo man,
Addicted to each inked in image - 
lost in aging wrinkles
scratched and wounded - healed.
Inject another dose - each
indelible and temporary meaning
judged -
a book of controversial cover - 
breathing canvas.
Man, defaced.