Pillock's Castle (3)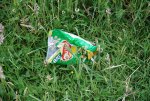 Mon, 08 Jun 2015
On Friday night, the scion of Castle Pillock chucked his telly, his guitar and a month's supply of pot noodles into the back of a taxi and Moved Out.  He didn't move far.  Were it not for the telly and the guitar, he'd have been quicker walking.  In fact he was quicker walking,  when he came back Saturday night to watch the Champion's League Final on the big telly.
'I thought you'd bloody gone,' his sister welcomed him.
'I thought you'd miss me.  Are you going to eat those chips?'
'Sod off.  I'm giving them to the cat.'
'Cat doesn't like chips.'
'I'm giving them to next door's tortoise.'
'Give us a chip.'
'Sod off…'
I have been a complete failure when it comes to family dynamics.  My ex-niece (my ex's niece) recently changed her Facebook profile picture to a photo of her, her mum and dad, and her two sisters, all lined up, arms round each other, with broad smiles and love in their eyes.  The last time I managed to get my two in the same picture they were at either end of the cannon outside the Imperial War Museum. 
They have the occasional moment.  He's six years older, and he was very good at her eighteenth birthday party.  I packed up and went elsewhere for the night; he DJ'd, got his own friends round as door staff, turned down an offer to go clubbing with an Australian girl who had descended from heaven, and in the morning refused to allow any overnight guest a bacon sandwich or access to the outside world until the house was cleaner than it had ever been on my watch.  Such loveliness was, however, totally cancelled out by him putting video on Facebook of his sister making a complete wazzock of herself on the dance floor.
'You bastard!'
'Ha ha.'
'I didn't even know you were videoing that.'
'Ha ha.'
'Mum, I didn't even know he was videoing that.'
'No point whining to mum.  Can't video what wasn't there.  Ha ha.'
'You bastard…'
Doubly cruel when you consider that his sister has earned stripes above and beyond the call of duty by sitting through, with me, and occasionally her dad, fifteen years of Youth Theatre performances.
I am a great supporter of the concept of youth theatres.  Run properly, I think they're a tremendous way to give kids confidence, teach them about team work and cultivate a theatre audience, and the odd theatre practitioner, for the future. 
Of course, you have to choose your youth theatre carefully.  Avoid anything that isn't attached to a proper theatre, with a proper costume and props department.  Unless you like sewing fifteen pairs of ladybird wings on to fifteen black t-shirts.  Or painting fifteen little toadstools for fifteen little ladybird bottoms to sit on.   But whatever youth theatre you choose, in whatever setting, you still have to go to the bloody shows.
It's rather lovely when they're at the ladybird stage.  The scion's first starring role was the Turkey in The Owl and the Pussycat.  Three gobbles and a squawk and I was in floods.  The problem generally comes, I have found, in the 11 – 14 and 14 – 16 groups.  Our youth theatre was firmly structured around workshops, and input from the youth, and developing creativity.  Have you ever been to a show where the Generally Pubescent have been allowed to be creative?  Every sodding cliché about the meaning of life you have ever come across, examined from all angles, and put through enough wringers to flatten them beyond redemption.  Badly timed comedy and sledgehammer drama.  Whimpers of pain, hastily disguised as coughs, escaping from the audience.  Why, the only thing that makes it tolerable is the fact that one's own child is, evidently, the Best Thing In It, and one would say that anyway, even if it were not one's own child, because it is so manifestly and objectively true.  One knew it, right from the first gobble and squawk.
It picks up, post sixteen.  They get a bit of swearing, and a bit of age appropriate sex, and everyone's enthusiasm perks up.  And it gets particularly dodgy with the younger siblings.
'You're not to snigger when he kisses Mary.'
'Euggghhh.  Poor Mary.'
'You're not to snigger.  Promise.'
'Promise.'
It's a tender moment.  He feels self-conscious, she feels self-conscious, they've both consumed so many polo mints they're in danger of falling through the hole in the middle.
'I love you, Mary.'
'I love you, Jack.'
To be fair, it's not only mine that sniggers.  Mary's little brother is giving it welly on the other side of the studio space.  The sniggering ripples round, like a chortling Mexican Wave, catching up everyone else's miniature siblings.  Mary and Jack grind their lips together in terminal embarrassment, and we swiftly move on to the bit where her dad comes in, played by the only boy who actually needs to shave.
I won't hear a word against youth theatres.  They set the scion on the path to drama school, national tours consisting of four actors, a van, some dodgy scenery and an even dodgier satnav, and his present career as an itinerant musician and pub quiz setter.  All of which his sister has also sat through, on and off.  Including the time we were the only audience in a club under a car park, which smelled of damp and charged a fortune for drinks, and where the manager insisted all three acts went through their entire sets for us, even the scion, whose set we know backwards.  His sister even bought him a drink after that.
'Get us some peanuts as well, will you?'
'Get your own sodding peanuts.  I don't get paid till Friday.'
'On the basis of tonight, I don't think I get paid at all.'
'I'll share you a packet of cheese and onion crisps.  Final offer.'
'Done.'
We may not go in for smiley photos, but I suppose there's solidarity in a shared packet of cheese and onion crisps.