Squirrel Quarrel, North Hackney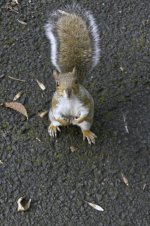 Sun, 10 Mar 2019
A pair of squirrels quarrel
in the elms above the garden.
Clive and Lenny. At it again
hammer and tongs,
like George Bush and Osama bin Laden.
"Oi, Lenny, where the fuck d'you fink
you're goin' wi' that chocolate bar? Pardon
my French, but it belongs to yours truly!"
"Shut it, you toerag! I faand it
under the rosebush. This is for me dustbins."
"Under the rosebush? What d'you fink this is,
the bleedin' Forest of Arden?
Give it back, you slimy tea leaf!"
"Sling yer bloody 'ook, you berk! Go on,
piss off back to yer twig."
"This is like when you "faand" that milk carton
be'ind the shed. I was savin' that
as a new barf."
"Well, I 'ate to dis'earten
yer and everyfing, Clive, but
the only fing you can plumb
is the depfs of stupidity,
you fuckin' plum. You wanna smarten
up a bit, mate. Use yer loaf
once in a while. Remember that time
you scampered aat in front of that Volkswagen?
Yer lucky not to be braan bread,
mate, scraped off a German jam jar,
yer trouble and strife left on 'er Jack Jones."
"Swallered a dictionary, 'ave yer?
Fluency in fancy jargon
don't make yer intelligent, mate. Hearken
to you wiv yer lah-di-dah rabbitin'.
What's next? Recitals of Petrarchan
sonnets wiv yer cheeks full of peanuts
as yer swing frough the green like Tarzan?"
"Oh, fuck off, you wanker. Fuck off
back to yer ugly missus. Never mind though, eh?
You can always bash the bishop, pump the parson,
choke the chicken."
"Right, you cunt, that's it..."
And away they flit,
majestically through the foliage.
© Alfie Shoyger