IN THE PARK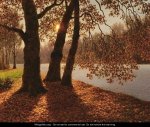 Mon, 12 Nov 2018
In February, as winter drew to a close, I posted IN THE GARDEN, a poem in haiku form. Now it is November - time for another winter and another poem.
No cherry blossom.   
No long days. No harvest moon. 
Time stands still. Winter. 
O sycamore tree,
Where are your green, fan-like leaves?
Underfoot, red gold.
In a holly bush 
Blackbirds flutter and squabble—
They crave bright berries.
Silver-grey water,
Gently rippling river. Calm.
Tomorrow? Who knows? 
Grey squirrels racing, 
Helter-skelter in the trees—
Playing tag is fun.
Fragrant white jasmine, 
Thin stems, tiny leaves. Beware! 
Its fruit is toxic. 
No frost on the grass,  
No dazzling sunrise today. 
Stark beauty. Winter.