The Afterlife of Spiders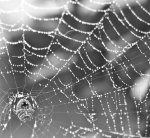 Sun, 27 Jun 2021
1 likes
You shall wear eight wings in arachnid heaven
and your web will be made from celestial harp strings
attuned to the choir fantastic.
Starlight shall guide your mandibles,
aphids will be angels in attendance
as banquets of golden insects are brought 
for your everlasting pleasure.
Spider saints weave holy webs 
of tapestries and swaddling nests
for your forever rest.
Crystalline church bells be blessed
with the filligree of your spinning
and eight-legged symphonies be
sung for all time onward.
Let spun silk be gold and silver,
hung down in eternal sunbeams,
for the power of the one glorious
all knowing webmaster.