The Birth of Claustrophobia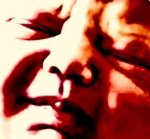 Mon, 02 Mar 2015
Woke up this morning 
feeling trapped and apprehensive, 
in unnecessary panic, even though
I didn't know it at the time.

Heard this woman screaming;
sounded meaningless to me
in a garbled sort of way,
then it all went quiet - 

Only for a minute, though, suddenly
all hell let loose - 
I struggled to escape a vice-like grip,
while the racket of the shouting 
that had started in the distance,
just as quickly died, and I felt sick.

My heart beat faster; heard it
drumming, and I'd never known 
such pressure - had this inkling
that I'd perish any minute.
It was airless where I hid.

Think I had dropped off, but then 
got rudely woken 
by a watery explosion,
then someone went and grabbed me; 
started yanking, squeezing something
metal round my head. 

Shocked, I yelled, but no one 
seemed to know this, 
and if they did, they took no notice -
just slapped me, bound me tightly 
with some cloth
and threw me at this woman 
who was sweating,
dripping wet and red. 

The air smelt chemical and hostile
and I must have been in hospital, 
even though 
I didn't know it at the time.

And though she didn't know me,
the woman tried to choke me;
watched me gagging 
on enormous hunks of flesh, 
which she stuffed with some persistence 
despite valiant resistance, 
into my protesting mouth. 

There was nothing left for me to do 
but swallow, and I did, as though 
my life depended on it - 
in this, the hairy story of my birth.

It was bad, no use pretending,
but would have a happy ending -
even though I didn't know it at the time.