Lace Wings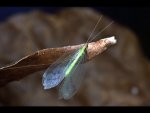 Sat, 20 Jun 2015
2 likes
Who tatted the gossamer lace 
that graced you with fluorescence
as you shimmered on to dusk from dawn?
Who cares that after all your chores were done,
just hours past your birth, you paired
and from this world were quickly flown?
No one, but the one who listens
for a question, and smiles
upon each living work of art before it's drawn.
And so it will continue, as since 
he lit the dim glow of that early wondrous 
pink and orange sun. 
Oh to be remembered 
with such care and fond affection 
after we are gone.