Railway Tracks, Laughter & Spiders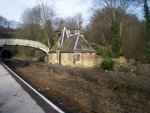 Sun, 02 Jan 2022
2 likes
The buddleia is turning brown by the side of the tracks
A butterfly perches, rises, perches, rises, then suddenly turns back
The South side signal box is boarded up - black on black on black
In the furthest corner of a once-was-window, a spider spins its silk egg-sac.
The graffiti on the footbridge is faded - maroon spray paint on the stones
A figure appears and hauls themselves onto the highest part of the wall, utterly alone
They stand and sway, pulling things out from their pockets to drop - wallet, keys, phone
They hold their arms out like wings, a sob turns to laughter, then laughter to a groan.
The rails start to hum and the power lines vibrate
The figure turns on the wall, face raised to a sky as grey as slate
The train curls into view, wheels whirring a tremendous rate
And something catches the figure's eye - white words on stone 'It's never too late'.
The train driver is firing the horn now and birds fly away overhead
The butterfly and the spider, like the birds, have fled
Time seems to slow but not the train, which passes in flashes white and red
And the figure - so close to jumping - simply climbs down instead.