Only one Song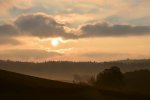 Wed, 19 Apr 2017
There was only one song
in the woods  in the pitch of night –
from the Onyx Bird, from the Thief
and the Fiery Kite.
From the Olive Beak in the crook
of the slumber trees
from the Glitterfinch, like a star
on the cooling breeze.
All the singing birds – and each
with a different call - looked to the East
as darkness began to fall.
There was only one song
in the woods, in the pitch of night.
And the song said
light -
and will always -
wait for the light.