Angel 71 (graveside)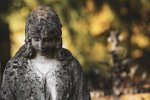 Tue, 03 Dec 2019
1 likes
When the funeral dirge played, Angel felt it like a punch to her stomach. She knew it was time to take Lisa's body away. The undertaker with black top hat, frock coat and fancy waistcoat, from a bye-gone era, tried to do so with due ceremony and ritual, but he picked the coffin up like something he could tuck under his arm, it was all too much for Angel and she collapsed into hysterics.
Church propped her up on one side and on the other Pizza Face's mum tried to shield Adam from the worst of it, but he too began to wail.
Pizza Face leaned over the seat and tried to take her hand, but she pulled away from him. He was speaking to her in a kindly voice, but she was too caught up to listen. She closed her eyes and tried to speak, but it was as if she'd swallowed a sponge. It was too much and those in the front row talked around her as if she wasn't there.
'Maybe they should gee her something?' Tony suggested.
'I've got some Valium,' said Bruno. 'But that'll probably not even touch her.'
'She just needs a bit of time,' suggested Pizza Face. 'A bit of air.'
Adam's screaming finally got through to her and she wiped at her eyes and took him in her arms. He clung to her, crying into the nape of her neck as she shushed him and patted the hair on the side of his head.  
The coffin had already left the nave and she could see the back of the Reverend's grey hair as he walked slowly behind it and the other mourners from the back rows filed out behind him pushing through the doors.
'Best get going,' suggested Church. 'I've booked a taxi. It'll be waiting outside'.
'Hi, Muppet,' screeched Pizza Face, staring at Church and her colleague. 'That's my wain they're burying. She's no' goin' anywhere until she's been up to the graveside and has a cup of tea and sandwich with her loved ones in the church hall. We're gonnae dae this properly.'
Pizza Face's mum grabbed him by the elbow and shook his jacket. She addressed him like a five-year-old boy.  'Calm doon you,' she said. 'And don't be cheeky.'
Tony grinned and Bruno smirked as if waiting to see if she'd tell him to apologise to the nice ladies.
Church ignored Pizza Face. She plucked the back of Angel's hand from the pew and rubbed it. 'Whit dae you want to do, pet? Would you like a nice cuppa tea?'
Angel bit her lip and nodded.
Church said, 'Right I'm sure we can make a bit of time for you.'
Her lanky colleague stood up and standing at the end of the pew brought out a set of handcuffs, ratcheting them to fit Angel's narrow wrists.
Bruno was about to say something waspish, but Church beat him to it.
'I don't think we'll be needing them.'  
'She might bolt,' said the young prison guard.
'Where tae?' Church raised an eyebrow. 'And with a wee child.'
'She just might.' But she was already attaching the handcuffs back on to her belt.
Angel and Adam were wedged between the guards. They stood with their backs to the altar and waited until everybody else had left the church before escorting Angel and Adam outside and into drizzling rain.
A space was made for them in the undertaker's car as they slowly turned into the flow of traffic and took a right up the steep hill and into the Old Kilpatrick Hills and the graveyard at Dalnottar.  
The Reverend was standing on the stamped down grass at the grave. Gravediggers loitering a few paces away among the other graves, one of the heavier guys smoking a fly fag. As Angel got closer she felt the shock of seeing so deep a hole for such a small body.
Pizza Face held one lanyard and Tony the other—neither of them the father of Lisa, thought Angel—as they lowered the shoebox of white coffin into the ground. The Reverent read a slow and halting passage from the Bible, the pages lifting in wind and rain, and he pinned them down with a big hand. She didn't know if it was Old or New Testament and didn't care. He flung a little soil from beside the grave into the maw of the hole.  Bruno stood beside them in his tight-fitting suit, looking suitably sombre and started crying as he picked up a handful of loose soil and he too flung it into the four side of blackness.   
She felt the wind cutting through her and her legs going, Church flapped at her, trying to catch her as she fainted. She heard Adam's screams.  
The Reverent was helping her sit up, the few mourners looking on. His eyes were bright. 'Jesus told me to tell you he loves yeh, and your wee girl is with him in heaven.'
She licked her lips. 'That's the kind of thing Vicars get paid to say. I don't believe it for a minute – but I wish I could.'
He nodded and spoke with conviction. 'You can.'
 Bruno was holding Adam, walking up and down the wet grass with him, pointing at graves and trying to keep him amused. She felt the damp through her stained jacket and her unshaved legs were cold. He helped her stand up.
'You alright?' asked Tony.
'Aye,' she said, and shook her head. 'I mean no, but whit am I meant to dae?'
The gravediggers had moved in at their back. A wee guy with a furry hat and earmuffs laughing boisterously at some joke as he picked up a shovel and started scooping earth into the grave.
Tony considered her question, his eyes narrowing but not leaving her face. She loved him for his seriousness. Then with a twitch of his shoulders he was gone, apart from her.
'Dunno,' he admitted.
Bruno stomped towards her, the strain of keeping Adam from crying having failed, and she saw the relief in his face as he handed him back to her like a parcel sent to the wrong address.
Angel heard the young officer telling Church. 'We need to get back to the prison soon. My shift 'ill be finished and I should be on double-time.'
'He needs to get fed,' Angel told them, cuddling Adam, 'He's overtired and upset. He's had a long day'.  
'That's not for the likes of you to say,' the young officer said.
'Girls,' said Bruno. 'I'm sure we could come to some compromise. A cup of tea and sandwich in the church hall never hurt anybody.'
'Shut the fuck up,' said Pizza Face. 'Who asked you?'