new dog for old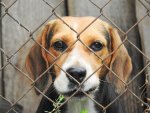 Sat, 04 Jul 2020
After his mum's death Bob decided to get a dog. He'd been laid off after working for the same company for almost thirty years, his wife had left him when he still had a full head of hair and the kids—that was a laugh, at the funeral he'd mixed their names up—they arrived like postcards every other year, then stopped. He'd a picture on the fridge of them standing smiling together, before they got fat. He blamed bad blood and secretly thought they took after their mum.
A dog was the thing, he'd put on the beef and the doctor was talking about diabetes, as they always do, when they weren't lecturing about stopping smoking and drinking – and living. He had stopped smoking, but didn't tell his GP that, he let her words roll over him and let her feel self-righteous, as if she really gave a toss. The thing about dogs, they were always there for you and always loyal.
And if he watched another repeat of Midsummer Murders he'd end up stabbing himself to death and frame his ex-wife. He got up from the couch and went into the kitchen where he kept the computer. Most folk had it on their phones and watches, but he was old fashioned that way. He still talked about firing up the computer, as if he was Scotty in Star Trek telling Captain Kirk that they'd reached warp speed and the engines were breaking up.
He sat at the table and peered out the window, after he'd googled dogs for sale. It was pissing down with rain, typical Clydebank Fair weather, the kind they used to have when his mother and father took him to Rothesay, bought him a cone and told him to enjoy himself - or else.  
There were dogs for sale Scotland, dogs for sale Glasgow, dogs for sale Gumtree,  and dogs for sale near me. The choices were endless. He went for the dogs for sale near me, option.
Beautiful Chorkles for sale.
Kc Maltese Lineage, Maltese Girl for sale.  
Lilac Tri male Bulldog for sale.
There were pictures and maps and star ratings and pre-loved dogs. He had to get up and make a cup of tea and have one of those nice nutty bars to help him calm down. If there was a daunting, he was daunted and if he'd a packet of Regal he'd have smoked one—the doctor could go and jump—he felt he'd stumbled upon an online, pedigreed, dog brothel. And he didn't like to think he was mingy, but the prices would make a grown man weep.
He'd perched his specs on his forehead and rubbed his eyes. He stood up and checked his pockets for his car keys and when he couldn't find them went up to the room and checked beside the bedside cabinet.
When he was sitting in the car, listening to middle-class chortling on Radio 4, and backing out of the parking bay, he stopped reversing with a jolt and wondered if he should have phoned ahead. Perhaps he'd need to book an appointment. The Cat and Dog Home at Milton perhaps didn't want people turning up and wanting a guided tour. But it wasn't far and easier just to drive down and ask.
He knew where it was and how to get there, but finding the entrance and then a parking spot proved far more difficult. He pulled on a nylon waterproof jacket when he stepped out of the car and he could hear the dogs barking in the cages as he walked up to the intercom.
There was a bit of faffing about, talking back and forth, before he was allowed inside. A young girl with blonde hair and massive eyelashes came to meet him. In his younger days she'd have been thought of a bit of a catch, slim and pretty, but he wondered why everyone dressed as if they were dental assistants with white coats.
She was eyeing him too, as he looked past her, along the rows of cages. The acrid stink of disinfectant and pee catching in his throat, hold his hand up to his mouth and coughed discreetly into the palm of his hand.
'I'm Stacey,' she didn't offer to shake hands. He already knew that having read it on her name tag.
'Bob,' he replied and made a face. 'Can I use your toilet?'
'Sure,' she smiled and seemed more relaxed leading him towards the office.
He ducked his head sideways and had a look at a few cats that were sprawled out like rugs, some of them mewing at Stacey, and he supposed himself, as a potential home-giver too. But he wasn't thinking cats, he was thinking dogs, but wasn't going to commit to taking one.  
A ginger-haired man bounced past them in the corridor and Stacey gave him a lightening-rod smile. He trailed behind as they chatted and her colleague went right and they went left.
When Stacey and him reached the first of the cages, a hairy pug-nosed, fur-ball with its pink tongue out, came up yapping to meet them.
Stacey crouched petted it as it flung it front legs up through the bars and jumped up, almost levitating trying to meet her touch .
Stacey had nice, tanned, long legs, but he let out a cry, 'Jesus, whit's that?'
Her fingers kept twiddling and petting, but she turned her head and gave him a quick look to see if he was serious. 'It's a hand,' she said. 'Most of the dogs have them now.'
It was hanging from the dog's arse like a pink telephone receiver left off the hook.
'Whit's it for?' he asked.
'CRISPR,' she replied and he nodded as if he knew what she was talking about. 'Dogs now can be trained to pick up their own dog poo.' Then she came out with the killer text-book line, 'And it's more environmental friendly, no need for plastic bags.'
'Just shitey hands,' he said.
She nodded and rearranged her face into something resembling a smile, as she stood up, and they left the yapping dog and continued the tour. But he was no longer looking at the dog's eyes or coats or how friendly they were or if they looked like a barker, or wondering if they would eat the couch when left along in the living room, he was no longer really listening to her spiel.
An Alsatian dog's hand gripped the bars and it was attached like a wheeled tower that came from its arse suddenly and was just there.  Another had a hand that was over-white. And another that looked polished as an urn.
He was glad when the tour came to an end and they stood in the corridor beside the office.
'Any questions?' Stacey asked.
'Do cats have hands?'
She shook her head, 'Not yet, but I guess they're working on it.'
'Can I use your toilet?'
He nipped in and washed his face and when he came out she was waiting for him with a printed questionnaire and a pen in her hand.
They went through the usual stuff and he was waiting for her to hit him for money and weekly and monthly payments from his bank account.
'Where there any dogs, in particular, you think would be particularly suited to your needs?'
'No, they're all weird.' He didn't know how to put it. 'Have you no got any normal dogs?'
'Normal?' Her tone sharpened and she raised her artificial eyebrows and flicked at him with artificial eyelashes.
'Aye, normal.'
She tapped the red biro against the black binder holding the questionnaire. 'Well, the truth is, after the scandal, we're finding that most of our dogs are CRISPR dogs and we're run off our feet and most of them need to be euthanised.'
'You mean you kill them?' He reached up and took his specs off and wiped at his eyes. 'Whit scandal?'
She sucked in her breath. 'You know the one with celebrities and dogs using their hands and fingers in ways in which, God, they weren't really meant to…' Her voice trailed off and she became pink cheeked. She countered this with a stiff pose and some factual information. 'For the first time in recent history, the numbers of dogs in inner cities has gone into sharp decline.'
'I'm no surprised, it's went tits up. Pardon my French' He nodded towards the door. 'I'll just leave it, eh? For another day.'