Wednesday Club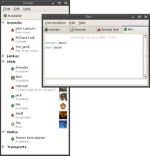 Tue, 16 Nov 2021
We yakked on about God and laughed at the devil. Really, it should be the other way about. I met the devil when I was nine or ten, but I blanked most of it out.
What brought back the stench of sulphur was the long forgotten AOL dial-up-tone. A low electronic howl and hum. It scratched and played inside my inner ears, stretched my mind. Looking over my shoulder. Foot-tapping. Waiting for more. I'd called the devil up.
My da's office. A family joke, more a cupboard with peeling Anaglyptic wallpaper and stinking of fag smoke, but the door shut if he pushed it hard enough—well almost. I spent more and more time sitting on the wooden stool, balanced on my toes, ears attuned to my ma's heavy step on the stairs. Whenever he was offshore, I tapped in his passwords. I couldn't seem to get away from the lure of lights always blinking in the chatrooms. Within seconds, I'd got my first message.  
A bad boy who squirmed with adult anticipation, my imagination doing laps of my body. I sinned regularly, a hard-on pressed against my belly button. I was Pavlov's dog foaming at the mouth, waiting to be fed porn.  But it took three-quarters of an hour to print off a picture of a nudie woman, and used all the black ink on the printer.
My da went fucking ape-shit when I used all his black ink cartridge—no colour pictures in those days. Ma was more gullible. I'd been able to convince her it had been a school project—that had gone wrong—and I didn't understand why.
Ma knew how to push his buttons. She always got her way. And she was right. I did flash my project around my school for five pence a look. Older lads brought in more hard-core stuff from under their da's beds and charged more. Glossy pictures of Penthouse and Playboy. Blonde hair, big tits and hairy fannies. Readers' Wives with pages stuck together.  It would have been better if they'd nipped it in the bud then. If I nipped it in the bud then, but I was already in skin deep.
I was skinny then, of course I was skinny. We all were, but we didn't think of ourselves being that way. Gangly for my age, which put me under five-foot. Nothing remarkable about my freckles. Almost reddish, thick, curly brown hair.  I was forever brushing it off my forehead and away from my hazel coloured eyes. My front teeth overlapped in a pout. I hated them when I remembered how goofy they were. I hadn't grown into myself yet and wore what everyone else wore in Clydebank, no matter the weather. Wrangler with the collar up and denims with Doc Marten boots. A uniform for boys my age as I stood chittering in the driving rain at the bottom of Kilbowie Road, in the first close of the derelict houses, across from where they were building the spanking new Shoppie. It was meant to usher in a new age. It did for me.   
My eyes foxholes amid sooty stone of the close mouth. My body danced a nervous jig as I paced one step, two steps. Hands clutched in a posy. I tasted the stour at the back of my throat, and didn't even notice how cold it was, even though my teeth were chittering. How wet and miserable for a Wednesday night. A school night. The fall-back position of ten- thousand or more mumbled adult conversation—the weather. I told my mum I was going to see my big cousin in Whitecrook Street and we were going to a Bannkie's game. I didn't even bother about football. But she gave me the money that jangled in my denim pocket. I'd bought a programme on the walk down the hill—evidence. I followed different kinds of headlights. Not those unmoving lights that lit up the streets around the stadium and the night, but those of every passing car, windscreen wipers shunting the rain from side to side, splashing the rain against the kerb. I breathed again when they passed me on the hill.  I wondered what he'd look like, and kept my eyes peeled for a purple Ford Capri.
He started off as a she. We'd chatted online. You couldn't send pictures in those days. She was from Edinburgh, and eighteen, so she said. I said I was fifteen, but had lots of experience. No, that was later. I sometimes get muddled. I didn't know how to lie then. I told her I was ten. I still watched Top Cat on the telly and Blue Peter. She thought that was hilarious and admitted they weren't too bad. Then she asked me about other things. And she seemed to know what I was going to say before I said it.
Dribs and drabs, she wormed it out. How I'd been caught stealing mags from the bottom of Cammy's cupboard, my pal's brother. She said she might know him. He was fifteen; my first love. He took me into the coal cellar underneath the stairs. Had me jerk him off. Said he'd kill me if I told anybody. Put his cock in my mouth. Said I'd like it and it would taste like ice-cream. Tried to stick his cock up my ass, but couldn't get it up because it was too tight as fuck.  
She asked lots online, if I'd any brothers or wee sisters? 
Two-finger typed, 'Nah.'
Light blinking. She seemed disappointed, but said it wasn't a problem. And wrote a big scroll of stuff, most of which I didn't understand.  Asked if I'd seen my mum and da doing it. I switched the machine off that night, frightened. Butterflies and bees in my belly. I went to bed and said my prayers, said to myself I'd never go into my da's 'office' again.      
She got all the messages, kept them. Logged them. She knew when da was offshore and ma and me alone. She could talk me around in circles. She became a he. And then became older and older, like Jack in the grown-up Beanstalk.  Said he'd come and get her, tell her everything I'd done, unless I met him. We wouldn't do anything much. Just talk like we did on the computer. And, later, sometimes on the payphone at the end of the street. Three rings and I was ready to pick up the receiver. Couldn't fail. No harm done. I'd hear his heavy breathing. Said he was touching himself. Wanking.  He was coming from Newcastle, so I had to be sure I wasn't going to let him down. He'd toot the horn.
I forgot lots, but remembered, oddly, enough, most of our first conversations were about mundane things about where we both lived. How boring it all was. And stuff about the teachers, especially the one with big tits. He liked that. Told me to imagine I was sucking on them. Then to imagine sucking on his knob. I told him I didn't want to, but he said I'd like it. Like what we agreed. He had it all wrote down for my ma. And printed off. He could just put it through the letterbox when I was at school. For her to find it.  
The white work-van slowed, headlights dimmed. A roar in the night from the fans at Kilbowie Park, somebody had scored. I wanted to run away, adrenalin flooding through my body. Sucking in the cold night air, I could see my breath. Brendan rolled down the window and slapped the side of the door. He waved me closer, but I still wasn't sure it was him, because he was bald and fat, until I heard his voice. Checking his rear-view mirror, 'Get in,' he wheezed.
This was my chance to run away, to change my life forever.