about a motorway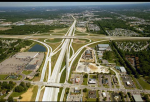 Sun, 27 Sep 2020
about a motorway
who tarmacked the carters' track
where mummers danced with acrobats
and pilgrims singing praises,
telling stories, making babies,
wended their way to Walsingham?
who felled the 'hangman's oak'
uprooted mandrakes, crushed sweet cicely,
to carve a motorway
where helter-skelter madcap drivers
head for auto self-destruction?
they have no time for buttercup teas
beside gentle trickling sunshine streams
watching clouds and dreaming dreams
no time to wander bluebell dells
where red-haired girls in white lace dresses
wove daisy chains for necklaces
nothing's left of the one-room school
where we learned our tables
and joined up writing
no trace of the pond we fished
for newts and toads and sticklebacks
taking them home to certain death
in jam or pickled onion jars
who cares that the woody glade
where we played cowboys
and the Indians never won, is gone,
and in its place, a pet food outlet,
Ikea, and a Sainsbury's Homebase?
just the ghosts of red-haired girls
weeping where ox-eye daisies grew,
weaving wreaths of asphodel
to drape the necks of hedgerow creatures
foxes, hares, and Brock the badger.