Putin's Blessing on the Old Soviet Union : An Anti Alternative View of Easter In Ukraine and Russia by Alfred N.Muggins
Image: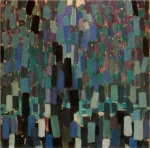 Sun, 09 Apr 2023
8/4/23 (1/4/23)
Putin is Death
All things may be destroyed,
Irrepressible nature repressed,
Held down for the sake of conquest.
There is more dying than living,
The defeat of winter is not to be overcome after all,
By repression of human opinion and the coercion of society,
Real economic limitation.
The migration of so many of the children (and adults!) of Ukraine and Russia
Did Christ really come to save us?
Can we really be forgiven for all the crimes petty and major,
which we have done during our selfish lives?
If so why doesn't he save us from Putin's form of oligarchic nationalistic imperialist fascism?
Can we ever forgive him for the crimes, petty and major,
Which he has done to every family in Ukraine,
And to every family in the Russian so called 'Federation'?
All can be forgiven?
But can it?
For every day is a new day,
But is it?
Not yet for Ukraine or Russia!
And we are all in this struggle together?
Perhaps!
No one is perfect,
Not even Putin!
But we all need each other?
That surely must be true!
Construction is so much better than demolition!
An end to wars and persecution,
An end to selfish competition,
The start of something better,
Working together to help our fellow men and women,
a real home for everyone,
a real place where all can grow!