preserving time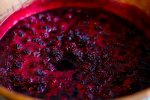 Fri, 10 Sep 2021
1 likes
When this pan's hot, usually  it's dull-
full of potatoes or lentils.
Tonight, blackberry juice simmers
fathomless and darkest purple
as the pupil of an elf's eye
looking on moonlight's other-world.
Below, on a low heat, glass cells
wait for their nuclei. Liquid
thickens from stirrable
possibility, into fate.
Till, lidded, they wait like treasure
buried by people under threat.
Open - whatever fears rule then -
a sweet memory of peace now