Ol' Rickety (Part 2)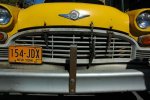 Fri, 07 Jan 2022
2 likes
Diggory remained idled at the curb for a minute or two, just gawking at that green button. It was boggling his mind how he couldn't have noticed it before.
Just when Diggory was thinking of putting his taxi back in drive and taking off, he heard a voice call out in the distance.
"Taxi, taxi!" it called.
It was a man with brown, curly hair and black, square-rimmed glasses. He leaned into the passenger window.
"Are you available, Guy?" the man said in a whiny voice. "I'd like to get to 8th and 34th."
"I'm available," Diggory croaked, tearing his gaze away from the button.
"Thank you," he replied, getting in the cab and then slamming the door behind him. "You know it's so rare that I ever get a taxi when I'm just running up to the street like that. Today is my lucky day, I guess."
Diggory stayed silent and turned on the meter. He put the car into gear and started to drive off.
The man continued to talk.
"I am going to see a new therapist today," he said. "His name is Dr. Beringer. I had to get a new one because my last therapist, Dr. Holbrook, had diagnosed me with Lycanthropy, of all things. Which I think is a load of hooey."
Diggory's eyes rolled to the back of his head, and he groaned. Back to his annoying fares.
"You know what that means, right? Lycanthropy?" the man continued. "It means I think that I am a wolf. Can you imagine? Me, a wolf?"
The man then let out such a long, rapid laugh that he'd nearly hyperventilated.
"First of all, I am deathly afraid of fire hydrants. This goes back to when I was a kid where I grew up down in SoHo. It was one of those sweltering August afternoons, just like today, and I was walking down the sidewalk. I turned around to see this red fire hydrant sitting on the curb behind me. I didn't think much of it. I mean, what does anybody think when they see a fire hydrant? They're all over the place. But then I walked a little ways, and I turned around again, and I swear I saw the same fire hydrant at the exact same distance behind me. I walked a little more, turned around, and there it was again. The next time I thought: Oh, I'm going to outsmart it this time and walk backwards while keeping my eyes fixed on it. Sure enough it stayed put like it was supposed to. But then as soon as I let it out of my sights and looked at it again, I swear the fire hydrant moved. At that point, I just ran and ran and ran and ran until I finally passed out. I never trusted fire hydrants after that."
"Lycanthropy," the man continued, snorting. "Phooey!"
Then suddenly he saw something outside and wrinkled his nose. He started to stiff incessantly.
"Hey, Guy," the man then said to Diggory, nervously. "I don't wish to alarm you, but I see this strange, strange lookin' Pomeranian over there."
Diggory took a glance out the window to see a woman garbed in a mink stole holding a pink leash with a dog at the end that was licking something off the sidewalk. It then suddenly jumped and looked at the cab.
The man gasped and widened his eyes.
"Not in my neighborhood, Mister!" he screamed. "Ruff! Ruff! Ruff! Rrrufff! Rrrruff! Rrrrruff!"
"Holy Mackerel," Diggory exclaimed.
Without further hesitation, Diggory took his index finger, put it on that green button and pressed it. In surprisingly rapid succession, the roof opened up like a clam shell and the apparently spring-loaded back seat was released, which sent the man flying through the air.
"Ouuuuwwwwwwww!" he screamed like a wolf, as he flew off into the sky. Diggory looked up through the open roof to see the man disappearing into a speck.
The back seat then locked itself back in place, and the roof closed just as quickly as it'd opened.
He then turned back to gaze at that green button in awe and said: "Well, I'll be a monkey's uncle."
~*~
His next fare was a young woman with a red bouffant and white, horn-rimmed glasses. Her face was buried in a pink handkerchief, as she'd recently broken up with her boyfriend.
"Oh, Robby," she said, blowing her nose. "We were doing so well! We were supposed to be engaged! But he called it off. And it was all because…" she blew her nose "…well, he said because I kept beating him at board games."
"It started with Parcheesi, Sorry, Monopoly… little things. He said those were just games of luck. Then he challenged me to Gin, Checkers and Clue. I won those, too. Beginner's luck, he said. Then it was the ultimate game of strategy: Chess. I didn't even know how the pieces moved until he showed me that afternoon. But then I took one of his rooks and unbeknownst to me, I had him in checkmate! I didn't even mean to, I swear!"
She wailed unconsolably for a while until she could catch her breath and continue talking.
"But do you know what the last straw was? It was this morning when I listened to WINS 1010, and they had a trivia question. The prize was a dinner for two tonight at Maxwell's Plum. The radio announcer said: Who's credited with writing The Andrews Sisters' chart-topping Rum and Coca-Cola in 1945? I knew what the answer was. So I called in, and I got it right. I came right away to tell my Robby the great news only to find out he'd already made us reservations at Maxwell's Plum tonight. He was going to propose, I just know it! But he said he just can't stay with someone who keeps showing him up!"
She went through another bout of sobbing and then added, hysterically: "Who would have thought Morey Amsterdam would have cost me the the love of my life?"
Diggory groaned. He glanced at the button but was determined he'd only use it whenever absolutely necessary. But this one sobbing in his backseat was quite grating to his nerves.
"Well Mister?" she continued. "Do you have any ideas on how I could win him back? …I thought maybe we could play a game of bowling and then I just toss the ball into the gutter…"
Diggory's narrowed his eyes.
"Why don't you ask Dear Abby?" he croaked.
The woman then furrowed her brow and shot him daggers into his eyes through the rear view mirror. Her bawling was then replaced with raging animosity.
"I'm pouring my heart out to you, Mister," she said, almost screaming. "Is that all you have to say?"
"Yep!" he said.
Diggory put his finger on the green button and pushed. She screamed at the top of her lungs as the spring loaded back seat sent her flying through the air.
~*~
His next fare was a young man in a blue suit and red tie who carried himself stiffly. He was in the habit of narrating his route.
"Ah, you're coming up on 56th now," he said. "There's a blue Volkswagen coming to your left."
"Ope, watch it, there's a car braking in front of you!"
"OK, OK, right turn ahead. Take it slowly. Slowwwwly. Slow and steady wins the race."
Diggory huffed.
"Listen Mack, I'm gonna drive how I'm gonna drive, OK?" he croaked. 
The young man stiffly shot open his bottom lip.
"Hey, Mr. Cab Driver," he scolded. "I'm paying you to for this taxi ride, so I can do what I puh-leease!"
"That's what you think!" Diggory retorted. He pushed the green button and sent the young man flying in the air.
~*~
Fare after fare ended in similar ways.
 "You just worry about watching the road," scolded a deep-voiced woman with gray, curly hair. "I don't want to be in here any longer than I have to be."
"I can fix that, lady."
Diggory pushed the button.
~*~
"I hope you know I'm above petty disputes and am not going to skimp out on a tip!" screamed a blond-haired man in a blue suit and red tie. "I hope you know that I rise above your pettiness!"
"You want a rise?" Diggory said. 
He pushed the button.
~*~
"If you don't have anything nice to say, then don't say anything at all!" cried a young brunette woman with heavily applied white eye shadow.
"That'll explain why nobody wants to talk to you," Diggory replied. 
He pushed the button.
~*~
It was a hair past 7:30 p.m., and Diggory was creeping towards the end of his shift. He usually got upwards of 14 or 15 fares per day, but he'd only ended up with five so far, albeit one of those had come with a substantial tip. He was determined to make his last one count.
When his new fare got into the backseat, though, Diggory looked into the rear view mirror and felt his heart sink. He saw a man with extremely sharp and pointed eyebrows. He looked rather like a hypnotist as he stared deeply into Diggory's eyes through the mirror.
Diggory pushed the button.
~*~
Diggory felt rather nervous as he walked into the garage at the end of the day with nothing much to show for it in his yellow envelope. In all his years of driving a taxi, he'd never come in that skimpy before. However, he decided to play it cool. Any cabbie is entitled to an off day. He puffed casually on one of his stogies as he approached Marco Dionsio's desk.
However, the gravel-voiced Marco wasn't one to take it cool. He snatched the envelope and gave Diggory an incredulous glare. He then curled up the edges of his mouth in a venomous sneer.
"This feels kinda light, Diggity," Marco rasped, balancing and bobbing the envelope in his hand, checking it for weight. "There better be some hundreds in here."
"No, hundreds, boss," Diggory replied casually, taking a puff of his stogie. "Only got five fares today."
Marco suddenly froze in place. He couldn't believe what he'd just heard. He then joggled his head rapidly as though to shake himself awake.
"What?" he barked, sharply. "You tellin' me you did a full 12-hour shift and only got five fares?" 
"It was a slow day, boss, what can I tell ya?" Diggory said, taking another puff of his cigar.
Marco furrowed his brow and tilted his head.
 "Are ya cheatin' me Diggity? Are ya workin' off meter?"
Diggory took out his cigar and held it in between his fingers.
"No, Mack," he said. "It's just been a slow day, like I told ya."
Marco then pursed his lips and screamed: "Slow day, my left foot!"
Then Marco looked down at his desk. Diggory's eyes widened when he saw what Marco was looking at. It was a green button, just like the one Diggory had in his cab.
Marco closed his fist and punched it. Then the roof of the garage quickly opened like a clam, and the spring-loaded tiles that Diggory was standing on was released. Diggory was sent flying out of the garage and into the sky until he was but a speck.