The Long and Spectacular Life of Agnes Magnusdottir 18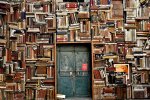 Tue, 19 Oct 2021
The Second Translation. Zelig Krüger's Diary. Pages 2 & 3
A library! 
    The lift doors had opened and there it was. Although I had never seen one before I recognised it for what it was. 
    What other room has its walls filled top to toe with books? I had never seen so many all in one place, spine after spine after spine enticing me with their choice titles.  
    "I have a list of writers I want you to concentrate on," said Wolf, his words bringing me back to my senses with a sickening lurch. "You are to read their books quite carefully and then write a report. Do you see?" While still keeping his piercing eyes on me he ran a finger down the spines of the books on the shelf nearest to him. It was a chilling, proprietary gesture and already I understood there was more to this than met the eye. There always was. 
    "Your report should concentrate on the personality of the writer, anything you can learn about them from reading their books; their age, their economic situation, family background, their ideas about the world and so on. I want to know every single thing about them. Their innermost hopes and desires if you like." Wolf gave another of those short barking laughs. "You will be my window and I will look through you to the view on the other side. On the other side will be them. The writers. Gambolling about like so many lambs to the slaughter."
    Before he went back up in the lift Wolf held out a key. It was large and ornate. If it had been in a fairy tale it might have opened a chest full of treasure. 
    "At the end of each day press the button for level two and follow the signs for the exit. I want my first report by Friday." As the lift doors began to close he shouted, as if this were simply an afterthought. "Start with Bremer. Yes! Start with Bremer! I want to know it all!"
And despite all my trepidations truly I was in Elysium, that mythical paradise and heaven of the ancients. To have a life where I could sit and read. What could be better and more bountiful?
    In the room, unnoticed by me until I was out of Wolf's prepossessing presence, was an old armchair with the stuffing coming out and a wooden bucket with a lid on in which I assumed I was to perform my ablutions. I had everything I needed to sit there all day undisturbed and read. And that is what I did. 
    The truth was in those first few days I became lost. Bremer, the writer I had been exhorted to read, was the reason for this. His words transported me to another world entirely. There were bars and motorcars and beautiful women with blonde hair and curls. His hero, the hero in all the books, was a playboy, a loveable cad named Jenkers. In each story he would become involved with one, or more, woman. They would want to marry him but he, a bachelor at heart, would do all he could to resist their overtures and this would lead to all kind of ridiculous adventures; disguising himself as the King of Siam, piloting an ocean cruiser into the side of an iceberg, flying a plane single-handedly around the world. The endings were all the same, he would be sitting at a Mediterranean seaside bar sipping an ice-cold Piña Colada with his faithful sidekick Trewavas and he would tell him, Trewavas, that next time he saw a woman looming bosom first on the horizon he should tell him to run a million miles, the bachelor life was for him and always would be and he should never forget it.
    "So it is nonsense," said Wolf dismissively as I stood once more before him in his grand office and read the first part of my report out loud to him. 
    "It is nonsense," I agreed. But what beautiful fantastic exhilarating nonsense I did not say.   
    "And what of the man," said Wolf, putting his fingers up to his face, twiddling the points of his moustache, "what can we deduce about the man, the writer I mean?"
    The way Wolf pronounced the word writer was full of hatred and disdain and this single word alone was enough to send a shiver down my spine. 
    "It is all in the report Her Director Wolf."
    I clicked the heels of my shoes together. 
    "All on the next pages if you would care to look."
    Wolf picked a boiled egg from a basket on his desk filled with the things and popped it whole into his mouth. 
    "Indulge me."
    He cast one of his chubby hands in my direction.
    "Why have a monkey and eat your own bananas?"
    "Well," I said, paraphrasing what I had so clearly written, "I believe this writer, this Theodor Bremer, is not a young man. Although there is a verve and a vim to the writing it is also nostalgic. But not supremely so. I would put him at forty-five to fifty. And he works with furniture. Or has knowledge of it at least. Whenever he describes a room he always notes the furniture, a particular kind of table, or a chair. He knows their legs, the year they were made and even the craftsman or men involved. This is not common knowledge."
    I was warming to the task, and embarrassing as it is to admit, enjoying myself. Quite frankly, I see clearly now, I was showing off. 
    "And he is married to a woman called Ethel."
    Wolf raised his eyebrows quizzically towards me.
    "In every single book there is an Ethel. In one there is even two. That is the joke. One Ethel becomes confused with another."
    "And might not Ethel have been his mother's name? Or a favourite aunt?"
    I felt a blush rising on my cheeks. 
    "He makes love to an Ethel. If it was his mother's name..."
    I left this sentence dangling and carried on. There was more, much more, but why repeat it here? I would only be guilty once more of showing off and doubly aggravating my error. Suffice to say Wolf was happy with me, more than happy, and he finished up our meeting by giving me two writers to report on the following week.
Chapter 13.
The first thing I noticed was the full moon. The next thing was the smell. Sulphur. So strong it burnt the back of my nostrils. After that came the cold.
    We were outside. In front of us was a dark ripping pool, a shimmer of steam on its surface.
    "Leave you gown on one of the hooks and follow me. Quick or the cold will shrink your balls to the size of peanuts. Not a good look for any man."
    By the time I turned back Eldur was already in the buff, surprisingly pert buttocks flexing as he moved towards the water's edge. I watched, two bent fingers covering my modesty, as he leapt quite gracefully and landed with a splash in the water.
    It was only then as I followed the concentric circles out that I noticed them, the other heads, ten or twelve of them, like white balloons scattered randomly on the surface.
    "Take a leap!"
    "That's the only way to do it!" 
    Someone laughed, a heady peel, and I had a feeling it was my expense. Zara always said I was better with my clothes on. Or in another room. She could miss me then. 
    Perching gingerly on the edge of the rock from which I had seen Eldur take the plunge I took a deep breath and launched myself upwards. Bringing my knees up to my chest I let out a silent scream as I entered the water arse first.
A waiter with a widow's peak and ursine eyes came back and forth to the edge of the water delivering fiery drinks in shot glasses. After seven or eight of these my mind was swimming along with the rest of my body. For the first time in a long while I felt relaxed. It was like being six years old again, getting into my mother's soapy bath water. 
    I had drifted to the far side of the pool and was contemplating the soothing sensation the sulphurous water was having on my body when I felt a figure butt against me. 
    "Shall I take these off for you? They are quite soaked through. Don't worry, many years ago I used to be a nurse. Some things stay with you all your life."
    I had quite forgotten my bandages. Only now did I become aware of the heavy press of them, the way they were sagging below my ears like the snoods the cool girls used to wear at school. 
    A small crowd gathered in the water around us and for once I didn't mind the eyes. We were all naked anyway. 
    "After three."
    If I could have joined in I would. 
    There was a tug, the sense of a coldness and then a warmth. I had a feeling this must be how a snake felt when it left its skin behind.
    "There you are. Better your wounds breath anyway. Swaddle them and they only fester. In that way they are like deep feelings. Or lies."
    There was a round of applause and I raised myself half out of the water to give a bow. 
    As the crowd dispersed my saviour lent closer in towards me.
    "I think we need to talk."
   He or she, the compact wrinkled features and the short silver hair could have belonged either to a man or a woman, raised a hand and pressed it quite intimately against my lips.
    "But not here. Come to my room later and I will share with you what I know. I might have some information you require. Room four two five. You will remember that? Come when you are ready. I will be waiting."
 
Read the previous thrilling part of The Long and Spectacular Life of Agnes Magnusdottir 
Read the next thrilling part of The Long and Spectacular Life of Agnes Magnusdottir 
Image is from Pixabay