The Long and Spectacular Life of Agnes Magnusdottir 5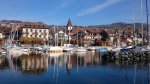 Tue, 07 Sep 2021
Chapter 4.
I had read The Ministry of Complaints when I was fourteen years old. It had come out that year and had caused something of a sensation. 
    Even the boys at school who didn't usually like reading were talking about it. The book came with a fold out map, a supplementary 'code book' which we could use to send each other 'secret messages' – this was before the days of the now ubiquitous mobile phone. And there was that repeated use of what our teachers would call 'swear words' and many other references that could only be said to be on the edge of polite society. 
    We had never come across such language and general coarseness in a book that was supposedly directed towards children. Or  'young adults' to use that new phrase that had sprung up around us exactly, it seemed, at the same time as this book.
    It was almost as if a new tribe had been formed and we were it. Here was something that was directed at us but that also pushed the boundaries of what 'us' was. We formed, we felt, an exclusive club.
    Playground conversations, which had previously mostly focused on the subjects of tits, wanking, and farting, were now concerned with detailed descriptions of the plot. And of course we felt free to use the swear words that appeared so regularly in the book both in general and against each other.
    However, after several months, it became clear that the book's appeal was more universal than had at first been evident. Boys talked of parents surreptitiously stealing into their rooms at night and sneaking away their copies 'just to see what all the fuss was about'. Then these pioneering adults, obviously having enjoyed the book themselves, would tell their friends and so on. 
    The publishers, eventually cottoning on to this phenomenon, released a special 'adults edition' of the book. It had a more grown up cover and was interspaced with intricate pen and ink drawings, replacing the quite colourful plates of the original. After this smart move the book's reputation, and its sales, grew and grew. 
    Move forward twenty-four months and the book had been translated into fifty-eight languages, disregarding the Bible a record number for a work of fiction at that time, and was even made into a stage play and a rather poor film staring a number of A-list Hollywood celebrities.
    Rumour had it that without the success of this single book the publisher would have gone spectacularly under. 
    All this however was overshadowed by the strange tale of the book's author, Agnes Magnusdottir. Right when the book was at the height of its popularity she had, quite simply, disappeared. 
    Her publisher initially said she was taking a rest, all the publicity she had had to do on top of quite a gruelling reading tour had taken its toll on her, and she was taking a well-deserved break. 
    But as one month became two and two became three various stories started to spring up, questions were raised in the press and a politician had even got involved. The bare fact of the matter was that she was gone. Never to be seen again. 
    That begged the question, where was she now?
At six fifty-five I heard about the motorway pile up on the local news. Another patient turned the volume up and a group of nurses gathered around the TV slowly shaking their heads. 
    Shortly after that a flustered looking doctor appeared by my bedside and said I was ok to go. He wasn't sure how many bodies exactly would be arriving but they needed the bed. 
    I was given details of a day clinic I could attend and advised that if I didn't have a liquidiser I would need one.
    "And no swimming. The water reacts with the metal. The last thing you want to do is make it worse." 
    The journey home was painful. It was no distance at all from the hospital back to my apartment but each step sent a jolt of pain shooting along my jawline and down through the rest of my body.
    At one point I happened to catch sight of myself in the window of a closed up Indian restaurant and I received something of a shock. 
    With the bandages wrapped around my head I looked like The Invisible Man from that old 1970s TV series starring David McCallum. If I unwrapped the bandages I was sure there would be nothing underneath, no substance, just an empty space.
    This sense of my own unreality, that I was a man out of place with his environment, was heightened when on going through the door of my flat I was confronted by a person I had never seen before coming out of the bathroom. 
    He was dressed only in a pair of extremely skimpy briefs. You'd have thought this would have put him at something of a disadvantage but upon seeing me he came towards me holding out a hand like the Lord of the manor.
    "I'm Russell. And you must be Harry. We were wondering what had happened to you. Christ man, you look like you've been in the wars. What on earth has happened to you?"
The explanation was difficult. I said it had been a random attack. Two masked men, knives, and a demand for money. 
    'When I told them I had none it got ugly.'
    I wrote the words in tiny letters on a card with the name and logo of a taxi company, Swift Cabs Getting you from A to B, on its other side. 
    "I'm sorry," said Zara coldly as I finished. "When you didn't come home I thought you'd started on another one of your infidelities. Some married man you'd met in the train station toilets. Wasn't that how it started last time? Or was it the time before that?"
    At this point Russell reappeared. He was fully dressed now, wearing the kind of clothes I had seen Picasso wearing in an old photograph, tight trousers and a long flowing shirt with flowery buttons all over it. On seeing him Zara's tone changed. She smiled girlishly. 
    "You know Russell from my theatre group, don't you?"
    There was a pause then where a normal person who was able to speak might have said, "And what the fuck is Russell doing here?" 
    "The most marvellous thing has happened."
    Zara clutched her hands under her chin in the way that she did when she was excited. 
    "You remember the production of the Three Sisters I was in last year? Right at the last minute we've been asked to do the whole thing at a small festival in Lausanne. We're flying to Switzerland the day after tomorrow."
    I wanted to ask which of the three sisters Russell was playing and at what point in the play this sister came out of the toilet naked except for a bulge in her manly underpants but, of course, I was speechless. 
    I stood in a manner that I hoped showed my disapproval and went through into the kitchen. I poured myself a whiskey and put a straw in it. Then I stepped out onto the balcony.
    I wanted to kick something. Or cry out. The truth of the matter was that I still loved Zara. We had been through a lot. I thought we should stay together. 
    Best case scenario: Zara would go to Switzerland with Russell and while she was there she would realise it was me she loved. Meanwhile, Russell would die in a skiing accident. His horribly mutilated body would never be found. Zara would think he had met a chalet maid, fucked her while making that face she thought he only made for her, and then absconded across the Italian boarder leaving her to pay the hotel bill. The bastard. Zara and I would live together happily ever after. 
    Worst case scenario: Russell and Zara would fuck like rabbits in the cold mountain air. Zara would put three fingers up Russell's bumhole which would spur him on to greater erectile heights. Their play would be a huge success. They would be asked to reprise their roles in a Hollywood movie. They would move to Santa Barbara. They would both win Oscars. 
    When I went to refill my glass I found the flat empty, no Russell and no Zara. I was about to go back outside when I noticed the copy of The Ministry of Complaints I had stolen from the hospital lying where I must have dumped it in my anger on the kitchen table. Scooping it up I headed back out onto the balcony. I still had my article to write and this, I had the feeling, was going to be my primary source. 
 
Read the previous thrilling part of The Long and Spectacular Life of Agnes Magnusdottir 
Read the next thrilling part of The Long and Spectacular Life of Agnes Magnusdottir 
Image from Pixabay