Tell Him I'll Be Home For His Birthday (IP postcard)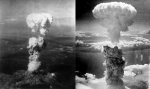 Sun, 28 Jan 2018
My Darling Chinami
Just a quick note to say I have finished the job they sent me to do.
It took me three days to get here, this war makes it so hard to travel.
I hope to get a train on the seventh, but I will have to wait for a ferry
when I get to Kyushu. It's so hot in Hiroshima in August. I needed to buy
some thin shirts at the cotton mill. I really miss the lovely sea breezes
we have at home. I hope this card reaches you before I arrive so you know
I am safe. Give my love to little Maki and tell Daichi I'm sure I will be
home for his birthday on the twelfth and if he's a good boy I will bring
him the new Kendama he wanted. Please try not to worry my love.
Give my best wishes to all our folks in Nagasaki.
We will soon be all together again.
Keiki