Below (The King Under The Mountain)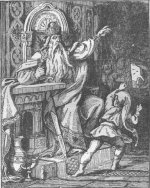 Mon, 11 Feb 2008
I met him once;
the king under the mountain,
hiding in dark
shadows. I could not discern
a troll, or a red beard or
even Pendragon's tattoo;
but he was king
and lived under the mountain.
Other figures -
outlines on the limestone walls -
were clear; Darby arguing
his way out of the kingdom.
A jaunty flute
under a jester's hat and
rodent shadows.
Boys: Baldur mute and prone,
one with a lyre, one
with string, paying it out
and reeling it
in. Observing his shadow
playthings the King
repeated the riddles and
tricks to keep the dead
forever under the rock.