Boom!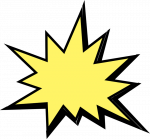 Wed, 23 Mar 2016
Over the rhetoric and beating of breasts,
spare a second thought for the sister,
the brother, the father, the mother,
dead or damaged by the hated other,
the mother-fucker in his heaven's ticket waistcoat.
There but for the grace of someone's God go I,
ours is but to do or die for gross and evil distortions
while you (we) liberal fools, become the tools,
the useful idiots of the Fabulous Bakroaoui Brothers'
band of bombers in their bid for hairless houris.
And the last Trump is no more than hot air, over there
(Over There! Oh the yanks are coming, the yanks are coming)
where they'll vote in the man with ridiculous hair,
while over here (over here, oh the wogs are coming, the wogs are coming)
where we'll vote for the man who plays our hurdy-gurdy fear.
Pin your answer to the donkey with an X,
in this Blind Man's B(l)uff,
let's join the Totentanz
to our bloody doom.