Enrique VIII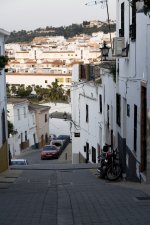 Tue, 08 Jun 2021
I taught some quite young kids in Andalucia. One boy was just seven years old. He was a handful, as they say. Mum was somewhat younger than Dad, she being wife number two. Or not. He might well still have been married to wife number one. Dad was a character. I often saw him in the grottier bars of Alhaurin during the day, if I happened to stop by one of them myself. Usually he was deep in conversation with somebody I might recognise from one of the eight banks in the town. Or someone from the town council. Failing those two, he'd be talking to an attractive woman. Not always the same one. Let's call Dad 'Enrique', that's Henry in Spanish. Maybe he had six wives too, by the time I left Southern Spain.
Enrique was bald. His head was like a polished-bronze cannonball. He was missing two fingers on his right hand. He had his own construction business, which almost certainly meant he danced between, around and all over the letter of the law. Everything he did was "a-legal" not "leg-al" or "i-leg-al". Alegal, probably not even a word in English, I expect you can guess why it existed in Spanish. Sometimes, if he was talking to a woman who worked at a bank or for the council, he'd just wave. Other times, if it was a social, rather than a business meeting, he'd call me over give me a bear hug like I was his brother and introduce me as El Profesor Escocés – The Scottish Teacher, who taught his son English. Then he'd buy me a drink.
Álvaro, the builder's son, had been seen by his school's resident psychiatrist. The school was private – and needless to say – expensive. Boys and girls from five to twelve years old travelled on a bus chartered by the school to take them from Alhaurín town centre all the way to Málaga. They sweltered in their uniforms that wouldn't have looked out of place on an English child of privilege in 1958. By the time they got to school they were already tired. I expect that psychiatrist was quite busy. Anyway, you can imagine how tired Álvaro would be when he got off the bus at five in the afternoon. Rosita, his mum, couldn't drive, so she picked him up, just as she would drop him off, on her prized moto – little more than a moped. No helmet, for either of them, but then in those days you might see a goat riding pillion behind a farmer. So, by the time I would turn up, at six p.m. after Álvaro and his three-year-old sister had eaten a merienda – a bit like lunch but more like afternoon tea, since the boy at least would eat dinner with his mum at around nine o'clock – my student was tired, fractious and almost unmanageable.
So I used to talk to Álvaro about football. He was crazy about Reál – unless you are from Valladolid or San Sebastian, there is only one Reál. So I taught him not particularly useful things like the names of positions in English, his favorite was the translation for portero, which he never could render better than "Goal Peeper" and that made me smile, at least. In the end, Álvaro survived his private prep-school and when he went to the associated high school, I knew I wouldn't be teaching him any longer.
Occasionally, Dad would be there when I arrived for class. The next door neighbour would be looking after the daughter. Álvaro's parents would disappear upstairs for just under an hour. I always got a tip on those days.
If I was writing fiction I'd end this piece there, you probably would too. However, about six years after I last saw Álvaro, I was in town taking visitors to experience the Féria, the annual craziness when the inhabitants of the white pueblos really do let their hair down. You've guessed it already, I bumped into a young man of about 17, handsome as all the young men in the South usually are. Without exception they are polite, charming and usually unrecognisable as the demon they were at eight years old. He pointed across the road at his mum, who I recognised, but only just. I looked in vain for his dad. Álvaro caught me doing it.
'He's in Brazil,' he said and shrugged.