Everything Which Burns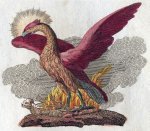 Wed, 13 Jan 2021
1 likes
Everything which burns
is not consumed, says Augustine.
Thus matter endures.
The ashes remain.
They may be stirred by more than wind.
There are still folktales.
A bird be-myrrhed and to blazes gone,
with feathers gold relucent
flies to the new sun.
A fire lizard shakes off glowing specks
and may cure some or other ill
before bringing rain.
If it truly is
the fire next time, we know ashes
begin, as much as end.