Hocus Pocus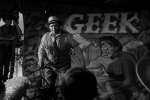 Mon, 28 Nov 2016
The snake-oil-medicine show is in town,
roll up! Roll up! Lay your money-clips down.
The price of truth has just gone up
and your Liberty's going down.
The carny shill has the public
in the palm of his tiny hand,
the brain in the jar is connected to
the monster's seeping glans.
Step right up! Johnny on the spot,
listen to the speeches, listen to the rot.
I gotta answer, I gotta lot.
Pick a card, any card, green card, race card, trade card!
Come on, you know it, this ain't so bigly hard!
Nebuchadnezzar the king of the jews,
sold his crown for a pair of shoes,
but they were handmade in the evening shade
but mine are American, mine are self made.
Listen, we got the greatest show on earth,
we got the bearded lady in a virgin birth.
Listen, you know you need to believe,
I am yours with my brain on my sleeve.
I am the mighty, mighty Oz,
I am as is and ever was,
I am the chief of the scarecrow nation,
you love me despite my aberration:
I am the new boss, the leader of men,
I am the old boss, I've fooled you again.
The die is cast and the chips are down.
The show is forever in your town.