Impressing Miss Axelrod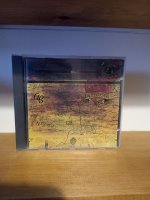 Thu, 18 Feb 2021
1 likes
I can remember
lifting the school-desk
cover for the first time.
The rumours weren't true,
or perhaps the paper "pannies"
were just on American-issued vinyl.
Slide the disc half-out
of its boring sleeve; tip it,
let the vinyl fall into palm,
edge first, still-short finger
onto the label, locate the hole
for the spindle, let the inner sleeve fall.
Use the rocker switches,
dial up the sound,
put the spindle through the hole,
gently does it. Lift the pick-up,
try to keep the shakes
to a minimum, the needle is
diamond hard, the vinyl isn't.
More twang than the sainted Duane,
the simplistic riff rattles the cones
in the cheap speakers.
"Schooooooooool's Out…."