The Myth of Olympians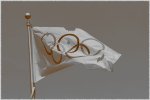 Fri, 23 Jul 2021
1 likes
Suppose they gave a war
by other means
and no-one came?
Perhaps we'll know soon.
And in the news today
we have the empty theatre
of Les Jeux Olympiques in Tokyo.
An opening cavalcade
broadcast to billions:
we are being fed our bread
and shown our circuses.
Four – no, five - long years of preparation,
dedication, near starvation for some,
for the glory of the games
that never were.
Forever asterisked in the Holy Book
of Guinness as the tourney of Tokyo,
where the national anthems
echoed in the emptiness,
how will it feel
to put your own medal
around your neck?
Perhaps the flowers
will be wreaths?
Will someone fail a test?
Betrayed by their own
bodily fluids, will their
infamy disappear from view
under the weight
of the only narrative
that seems to matter now?
Higher,
faster,
stronger,
together?
Alone.