The Once and Futile Kings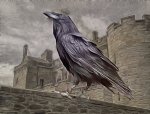 Tue, 29 Jun 2021
It's in the bones,
the secret unknowns:
the bones in Gloucester,
the bones in Kent,
the bones of the regal
to oblivion sent.
Two lines cross
where they ley:
some dowsers find ancient, royal blood,
beneath the weeds and the unploughed mud.
Merlin mumbles under the stone,
scrabbles around for his magic bone:
he hums and whistles
"The King Will Come",
he scratches a flea
and bites his thumb.
[Bran flies crow straight
over cruel Britannia;
now only the land
of us and them.]
A new King has arrived
in the Emperor's clothes,
with the dark one's moustache
and a clown's red nose.
And the table is round,
with two short legs,
the knights bicker and swive
and revel in dregs.
[The raven king looks down
at Londinium's smoke:
the guano falls heavy on the poor and old,
while the rich describe it as heaven's gold]
And Arthur turns in his unknown grave,
so far from here and history,
so glad that he is no longer king,
so long by fools awaited,
yet never again to come.