There Will Be Dust (A Wedding Feast)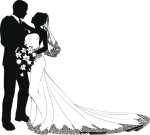 Thu, 29 Jul 2021
In another century,
a generation away
I remember a tiny creature,
features soft-moulded like clay
before the fire,
the slow-burning kiln
that is growing up.
Tomorrow is the day,
she'll jump the broomstick,
say the vows, hands fast
in front of very few.
Her father will look on,
proud and sad, glad
and worried for her.
I will make jokes,
be foolish, make her smile:
for that has always been my job.
I am her father's silly friend
and almost as proud of her
as he must surely be.
There will be dust.