These You Have Loved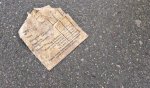 Fri, 26 Jul 2019
Factory fortnight, bucket and spade,
the papery packets you used to be paid.
Gammon and pineapple, fish and chips,
the taste of batter on your girlfriend's lips.
Steak at the Berni, snowball for Jane
maybe a babycham, the sparkling champagne.
Queueing for handouts, a million like us,
a job in Consett, travel by bus.
Nothing's for nothing, what d'you expect?
Why blame the workers? The economy's wrecked.
Banked at the Co-Op, shopped at the same,
even their fat cats impervious to shame.
Pension in pennies, held at the bank
gone from the high st, when the footfall sank.
Flat screen tele, nothing is on,
can't watch the Beeb, your licence is gone.
But it's all your fault, yours and mine,
Pols gambled the future, but they're still fine.