Tsk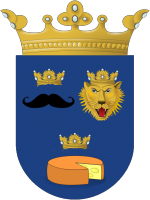 Mon, 09 Sep 2019
1 likes
From Wikipedia, the free encyclopedia*
Tsk (sometimes rendered Čšk, occasionally Tut, is the capital town on the south of the island of Bričabrač, formerly in the Split-Dalmatia County of Croatia, population 1,111 (2011). Bričabrač's status currently is ambiguous, President-for-life Ivar Kraicjek is reportedly still in negotiations to enter the EU after UDI was declared on Easter Day in the Bosnovian Orthodox Church calendar, 2012. Negotiations have been stalled since the EU's special envoy did not return from an official visit. Some say he is still looking for Tsk, or perhaps even Bričabrač.
Tsk
The smell of goat's cheese,
wine with hints of creosote, turpentine and ugli fruit,
pretty women with moustaches,
strong men with strong opinions
and a makarov in three pockets, just in case.
The Bosnovian Church bells
ring unorthodox changes
chiming only on odd hours,
and ringing 13 at midnight.
**Otyets Zakomnij has a mistress
of whom his wife is very jealous
since she has the longer moustache.
The council meets in
the town hall on Friday morning,
if there is no gunfire -
or bloodshed - by sunset
they reconvene on Monday.
The first-born in every family
is called Boris,
even the girls.
Under the Ottoman Empire
most people moved to the caves
above Tsk, whenever a ship
was sighted on the horizon.
The Dragon Bridge near
the Maiden Square does
not cross a body of water
as Zoltan Budvar,
a second son,
was not sure
of his designs.
The architect died
when a stone from his bridge
was dislodged whilst
he inspected it
from underneath.
On dark winter nights,
Tsk-ans dance naked
round a fire made
of furniture and rags.
There is no cinema
on the island.
Good luck finding
Bričabrač and Tsk.
The locals say
'Never look a gift horse
in the bush.'
Which may lose something
in translation.
*Not Really
** = Father Zakomnij
Artwork author's own created from PD & royalty free source materials.