The Lookout Boy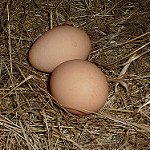 Tue, 13 May 2014
1 likes
No blood relation.
Sentry at the gatehouse
of some vast and rambling estate.
His wife had followed him down
through the years, held the front-line
in Victoria Sandwich for the WI,
darned his socks, explained away
the sudden silences -
the cavernous looks.
The summer we visited,
he'd let me follow his shadow
to the chicken coop,
the 'lookout' man he said.
We kept low around the perimeter,
his frown skirting the line of trees.
Inside the wire an enemy lost;
I held the woven trug nearly as big
as myself, in awe beneath the weight
of a dozen newly laid.
The last box he offered to me,
half distracted now, a weary gaze
and mind mislaid in dark remembrance.
I reached blind, filled my palm
and dared not breathe,
its perfect outline warm still,
my open hand a balancing trick.
He took it, set it down
in its bed of straw -
the first and only time
I saw his smile.
Her screaming woke us all.
He'd made his escape through
the downstairs privy window,
They followed the trail of blood and glass
to his prize vegetables where he'd
forged a trench from sludge,
his cabbages destroyed,
the runner beans a victim of
his random fire – his ancient
bones and milky flesh encased
in mud this one last time,
his final foray over the top
before his empty shell,
wrapped and saluted,
was lowered deeper into ground;
the corner of the local church ripe
with those that shared his family name,
brother to brother -
dispatched through gritted teeth
by the vicar whose roof he'd mended,
twenty years before.