Dear Adam & Eve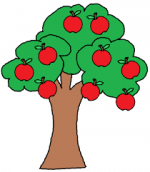 Fri, 06 Sep 2019
Dear Adam & Eve,
Sorry it's taken so long getting in touch.  You know how it is about being so busy.  I meant to write last month, but there was the garden to tidy (I'm sure you understand about that) and the laptop was playing up; sorry it's a sort of talking machine not a person…
I realise much has changed since your expulsion from Eden.  After all one silly piece of fruit and your cushy gardener's job was gone.  I must tell you that we are actively encouraged to eat it these days; apparently it's good for our health.
You don't have to worry about being naked these days.  It is all the rage and some people even get together to celebrate having no clothes, which is a good job.  The Fig Leaf has gotten out of hand nowadays.  They have this thing called 'fashion' and all it really means is you have to buy expensive clothes that look ridiculous just because if you don't you are…well there are a number of phrases like 'square' or 'behind the times'. It has been known to cause fights, get you bullied at school or even excluded from things because you are not 'properly dressed.
Remember those evening strolls in the garden?  Today people rush around at frightening speeds in machines that have been known to kill. People crowd around at things called 'Railway Stations' (more machines of speed) and push each other out of the way just to get home ten minutes earlier.
We have this thing called 'money' that we exchange for a number of things such as somewhere to live, clothes and of course fruit.  The problem is we never seem to have enough of it.  You would think there was enough fruit and places to shelter…
Remember the serpent?  Well people keep them for pets now.  I am sure you find that surprising given the run-in Eve had.
I'm sorry to tell you that we don't seem to have learnt from your experiences. In fact I think some people are moving further away than closer to happiness.  By the way, don't feel bad about the 'original sin' as some of us have taken it to a much higher level.
Yours sincerely,
forest_for_ever