One Way Ticket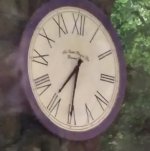 Sun, 31 Oct 2021
One Way Ticket
Our lives, my life is governed by time and the passing of it. Perhaps it is only natural that it becomes an obsession that has launched a thousand scripts. 
I spent my childhood for better or for worse caring not one jot about time.  As a child it would always be in front of me so why wish to go back?  Nothing really changed as I entered adult life except for the total dominion time held over me.  Deadlines, timetables, appointments and even promises contained that precious commodity I was still so good at wasting.  I have found that the only true motivator in my life with regard to time is that it is in short supply and unless I live to be a hundred and thirty-two I have more of it behind me than in front of me.
So I took a long hard look at the Inspiration Point and the imagined opportunity to go back one hour in time and it made me think about the science of it all….I can't go back in time.  Even if I could I wouldn't want to.  I could map out so many diverging points in my life that it would take an eternity to write.  The classic starting sentence 'What if…' opens a world of imagined realities and an infinite number of possible outcomes.  Whilst I do confess to dwelling on the subject I would truly shudder if I really had that power to go back. 
I am on a one-way journey with a one-way ticket and I cannot change a darn thing from the past.  That is my comfort and also my reminder to use it wisely.  I don't mean to rush around trying too hard to use every moment, but to give thanks for the life I have had thus far.  I don't know when I will alight this train and nor do I want to know because that would also be a dangerous power to have in my possession.
I am well aware that many would wish the chance to change things and that one hour would be crucial.  My own journey has had more than it's fair share of derailments.  Yet I have always been able to board a forwarding service so to speak and often with an unexpected upgrade that did not exist on the previous train.  
Back in the early Seventies I was a junior officer at an adventure camp.  I and the camp commander did not see eye to eye.  His report ultimately shut the door on my returning the following year.  So I chose to visit Switzerland on a sixteen-plus youth camp instead and met the girl I married and am still married to forty three years later.  Imagine if I had the power to change things back then.  I would not be sat here now writing this; nor would my wife be smiling at me… Thanks, but I am happy with this one-way ticket.